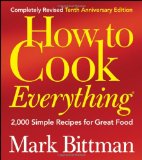 One of the tricks to planning Thanksgiving, they say, is to make as much ahead as possible. I believe them. I believe them as I have never believed them before. I still don't know who "they" are, but I utterly believe them.
I just didn't listen to them much.
Honestly, this is because I struggled to plan a Thanksgiving feast for four that would still be fairly traditional, with way too much food, without being WAY too much food. I also couldn't decide what really needed to be made the day of the celebration. Some things, I knew could be made ahead (the mashed potatoes and cranberries, for example).
I knew the brussels sprouts really needed to be made Thanksgiving day. I hesitated on roasting them, since my oven would be fairly busy most of the day, but decided that a roast during the turkey's rest period would be just fine.… Continue reading →