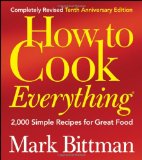 HOLY COW! Another big, round number! Fabulous.
So, Thursday night I made this stew. We were having our friend Jessie over for dinner, and it was a gross, wet day outside. I'd planned to make this one Monday night, but we switched the menu around in honor of those two things. (Jessie doesn't like chicken thighs, which are now on the menu for Monday night.) Luckily, we HAD gone grocery shopping by the time we decided to switch things up, so it was easy to go to a different choice on the menu.
I love it when things just work out.
I had put it on the menu because my friend Nancy had recently made it, and highly recommended it. Frankly, that's all it took.… Continue reading →