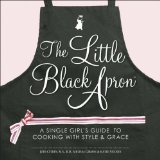 The Little Black Apron
Natasha brought this book into the relationship. I'm not really the "A single girl's guide to cooking with style & grace" (the subtitle) type. Because, you know, I don't do style.
The few things we've made from the book before the website started were all good.
Number of recipes in this book: 116 (estimated)
Number we've cooked: 0
You can click on the "little black apron" tag below to see all recipes from this book.
27 May 2014 note: I am pretty sure we gave this one to our friend Siana. Because, you know, she does style and Bill doesn't. Also, it's a good "cooking for one" book, which she needed more than we did.… Continue reading →