When Leslie of Not My Father's Beer asked me to, effectively, write a guide for beer tourists in Portland, Oregon (PDX) I nearly laughed right out loud. First, it has to have been done before. Probably a bazillion times. And second, I had just barely moved here! What'd I know about the Portland beer scene, other than it's reputed to be fantastic?
Then I "well actually"ed myself. I just moved here and I do know a thing or two about beer. I am basically a beer tourist in my own town right now, but I've been here long enough to lay down a few roots and get to know a few people, and I'm starting to get it moving. That makes me the perfect person to write such a guide!
So where should you go for a perfectly pleasing pour?
Places you likely have not heard of, but should definitely check out
Initially, I was going to start this post with the places you've definitely heard about. But then I realized that's ridiculous! You've heard about them before! I've got something to say on them, don't get me wrong. But we should start with the unknowns, so you know what to prioritize if you have limited time.
So, first, there's Saraveza and Ex Novo Brewing. Honestly, these two, for me, are as easy as falling off a log. Saraveza is a relatively small place with relatively a lot of beer. More importantly, it's Midwestern through and through. The only place that made me happier to walk into was Pepper Box Café, a New Mexican spot. Saraveza has patsies, great beer, great mac and cheese, and more. All in a casual atmosphere. But, Bears fans be forewarned, this is a PACKERS bar, even if that's not 100% obvious when you walk in the door.
Then there's Ex Novo Brewing. Possibly the place I recommend the most often when someone asks. This place is probably going to end up my PDX place the way Goose Island Clybourn was for me in Chicago. Ex Novo is a fantastic brewery with really kind staff, and often wildly experimental, while managing to nail down styles perfectly, as with their "At Her Majesty's Pleasure" brown ale. The food is also pretty damn great, with something for everyone. It's usually pretty chill, unless there's a party going on or the Timbers or Trailblazers are playing. Then, watch out: it's loud and crowded.
I love this brewery.
Places you have probably heard about
I'm not sure if you have heard of Horse Brass Pub or Commons Brewery or not, in part because I hadn't before I arrived in PDX (and I'm both a big beer geek and used to visit PDX at least yearly). I'm enjoying both of them immensely now, though. Horse Brass is a British-style pub with pretty darn yummy food and pints upon pints of beer. I particularly love that it's no trouble to get a half-pint there. Any studying I have to do in the future will be here. With half-pints.
Commons Brewery is more for standing around and being wowed by farmhouse-style beers. They've got a decent amount of space, but very little of it involves sitting. That's ok! You're more likely to get to wander around and chat with someone that way. I haven't had any of their food yet, but I have faith in them. Truly some of the best beers in town. Go and have the "Petit Classique" if it's on. It's stupendous and so sessionable.
Two places you've definitely heard about
Cascade Brewing Barrel House and Belmont Station are among the places that always come up when you hear about PDX, and there are good reasons they're mentioned. They're impressive. The beer is fantastic and it's always a bit of an adventure just to go visit them because you never know what you'll find at either.
Cascade is something of a destination for sour beer fans. I first went when a fellow beer geek found out I was visiting family in PDX and insisted I go try beers there. Since then, it's the only brewery I have made a point to hit every single visit. Now that I've moved, I'm trying not to spend all my money there. It's an issue. A delicious, delicious issue. The restaurant and bar is a smallish place with very knowledgeable staff and a large outdoor patio for use. (No dogs on the patio, which makes my dogs quiet sad.) Oh, and right behind Cascade is my favorite breakfast and lunch spot in town, Pepper Box Café. So I can load up on New Mexican food and then load up on sours. As you can imagine, this means the "delicious, delicious issue" is quite large.
And then there's Belmont Station. A combination of bar and bottle shop, with a lot going on in both cases. I've been there a few times and I just enjoy the bar a lot. The bottle selection, however, is where it really kicks ass. I can't even imagine how many bottles they have, but it was a great place to go shopping for my exam studies. That said, I wouldn't have wanted to study there. It's often quiet, but still too many distractions for me. However, meeting friends for a round? No problems! It's tasty and easy enough to chat with several folks. Or to go alone and make new friends! (I've done all of these things.)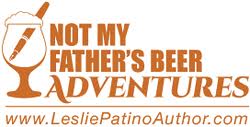 I wrote this post at the behest of my friend Leslie Patiño. She writes about craft beer weekly on her blog, Not My Father's Beer. Her novel, The Brewer's Justice will be available on Amazon in late February. I do plan to read it.