My last post was all about some gifts you could get for the beer and/or food geeks in your life. This list is my other passion, science, and then a bunch of other things that have made my life better over the past year in some way or another. Or, like the last post, a few things I might pick up in the future (holidays make it hard to buy for oneself).
In any case, these are usually things that have made me or someone I love happy, with an occasional thing I'm just dying to buy (for me or someone else).
Science:
First and foremost, let me reiterate "the single best suggestion/idea I can give you is to go shop for your entire list at your favorite local museum, aquarium, planetarium, or zoo." (This is a direct quote from me from last year, it's true.) Memberships are great and, yes, some of these places will be doing discounts (the Portland, OR aquarium is, for example) and their main shops are always full of cool and unusual stuff. And, typically, you don't have to go into the museum to get to the main shop (thus don't have to pay to get into said shop).
I was reminded of how good these shops are for back when one of our nephews came to visit. We took him to The Field Museum and I told him he needed to pick out a gift for his sister and he could pick out something for himself. The only thing that kept him from requesting picking out a giant plush snake was realizing he'd have to carry it home on the bus. Sooo…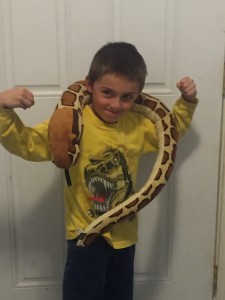 Yeah, I got it for him for his birthday. And I'm told he loves it still, and I think it'll help him remember that as weird as snakes can seem to us humans, they're pretty cool critters. And because it's not a generic snake, but a specific species of snake, the tag came with a little info about the kind of snake it is and where it can be found and so forth. This can encourage questions and curiosity about it and the other flora and fauna of the world.
So, I only recently learned about Yellow Scope, and I don't yet have a niece who's old enough for it. And, honestly, there's a part of me that wondered at it; adding a gender label to otherwise non-gendered stuff is often problematic. But I realized they were right when they say, "rigorous chemistry and physics kits are marketed to boys, and pseudoscience spa and beauty kits are marketed to girls." As a scientist at heart and by training, I remember how much fun having a rigorous chemistry set was and how much I learned. I hate that these things are gendered now (and I think they weren't when I was a kid), but if they have to be, let's make sure the girls get rigorous, good, chemistry sets too.
These two books could both have gone in yesterday's post because they are cookbooks, but both delve deeply into the science of food and thus they're best for the science geeks who cook in your world, I think. First is The Science of Good Cooking from Cook's Illustrated publishing. Joe and Patty, Bill's dad and step-mom, gave us this a couple of years back and I love just reading it. I've learned a lot that's helped me in my own recipe development.
Then there's The Food Lab by J. Kenji López-Alt. I don't own it yet. And I say "yet" very intentionally. While we've only purchased one cookbook in the time since we've relaxed the rules a bit, we're still generally against buying them. But everything López-Alt does over at Serious Eats and has done at Cook's Illustrated leaves me wanting this book. Combine that with a number of people I respect loving this book, you can bet this will be an early 2016 purchase for me.
Finally, there's the oddball cross between LEGOs and electrical engineering, the Kano. Bill has been considering it for our niblings for some time now (a few months, I believe), and he's not sure if the oldest of them are quite ready for it yet or not. But if not, then probably by next year. And it looks so fun and interesting. Honestly, it reminds me a little of the turtle robots I got to play with a few times in elementary school. I loved those things.
OTHER

:

Ok, I have to be honest. This is going to be, by far, the biggest section of this guide. And the least photographed section. You may want to make sure you have a cup of tea or a beer before sitting down. However, rest assured that everything in this category is something I LOVE.

The thing I love, have had the longest, and continue to use in this list is my MagBag 2. I bought it in 2009 for my trip to Kenya, and it not only did a great job there of helping me get fantastic photos, it has very much stood the test of time. The above, seemingly random, photo of cows? Gotten on my moving road trip, using my MagBag 2.
Also hailing from the days of yonder, in this case my elementary school days, are Jane Yolen's The Pit Dragon Chronicles. I actually only managed to read the first two of the books before I moved at the end of my middle school years. It wasn't until this year that I both found (thought to check Amazon for) the third book and discovered that there was, in fact, a fourth book. I burned through the first three and thoroughly enjoyed them. The fourth has been quite enjoyable too, but not quite to the level of the previous. I think mostly because I want to read more about the female protagonist, Akki, and what she's up to than the book has really gone into. Overall, though, a fantastic series and one I cannot wait to share with our niblings in future years. Alas, this really is going to be more in the 10+ range, and they're just not there yet.
However, what I have been able to share with our niblings, also from Jane Yolen, is the How Do Dinosaurs series. I have actually never read a single one of these books, but I've given several to great enjoyment of our little ones. Better yet? I discovered my aunt, who runs a day care, has been recommending these for years and had already gotten my sister to buy a few. The kids love them enough that though I'd accidentally gifted one of our nieces a copy they already had, my sister said it was good they could each have their own.
Well, from that, let's talk about kid's books I have, in fact, read. Several years ago, many of my friends and family were suddenly finding themselves "in the family way." And, having read some of the books our eldest niblings had, I realized why parents go so batty when reading to children. It's because it's hard for board books and other kids books not to suck. I went looking for at least one non-sucky book, and found My Many Colored Days in a used book store. I've since gifted it to a number of friends and family members (both in the above board book format and in hard cover). Save a friend, family member, or your own sanity and buy this one.
Finally, let me end with two gifts that have done me a world of good in the time I've had them.
First, L'Occitane Shea Butter Hand Cream. I got a small bottle from my dear friend Jen years ago. It took me an embarrassing amount of time to start really using it, and now I use it on a daily basis. It's thick, not too smelly (though I do avoid wearing it during beer tastings), and my hands are much happier since I recommitted to lotion that really sticks. Yes, it's pricey. It lasts, however, a really long time (several months of daily use, in my case) and it's a great winter lotion.
Then there's Gloom and Cthulu Gloom that my good friends Angelique and Marty (MBBB) gave us for last Christmas. Bill hasn't played it a ton (though some), but my friend Nicky and I played it extensively in Chicago before Bill and I moved. It's fun, can be fast-paced, and requires the input of creativity. Which is, of course, my favorite part. Not only did Nicky and I laugh our asses off playing this one, I'm convinced that playing on a regular basis really helped improve both my writing and theirs. If I were focusing more on fiction, it would have improved me even more. Creativity helps problem-solving!
Thank you all for your readership. I appreciate it so much, and I hope something here helps you find the perfect gift for one or more folks on your list(s).
Happy Holidays.
Note: All Amazon links above are affiliate links. This means I get a tiny percentage if you buy the linked items or other things via Amazon after clicking. Your purchase price won't change. And if you do smile.amazon for charity, they stack. Still without changing your purchase price. Thanks!