Well, after blogging for four and a half years, I guess I've started to get the hang of things. Like, in December, a blogger should consider having a "gift guide" or something. Or a good cookie recipe. Or both.
Well, I have several cookie recipes, but nothing new for you, so I guess we'll have to settle on a gift ideas. I tried to come up with a few things that I have liked, used, or given as potential gifts from each "section" of the blog (food, beer, science, blather).
Mostly, I think these things are neat, fun, or wonderful and I hope to help you find something spectacular for someone awesome in your life. Or, if not find, give you some a springboard for other ideas.
Science:
I'm starting with the science suggestions because, for me, the single best suggestion/idea I can give you is to go shop for your entire list at your favorite local museum, aquarium, planitarium, or zoo. Not only can a year's membership be awesome, the gift shops are a treasure trove of interesting or even unique items you may not expect, and they may well have something for everyone on your list. I got my favorite mug (photo below) at the Field Museum, for example. I also got a hyena stuffed animal for a niece at her local zoo. It's good stuff, and it supports the upkeep of these institutions as well as their educational goals. So, really, by giving your recipient a gift from these places, you're giving more than once. WIN.
That said, if you have an abiding desire for specific science recommendations, I have three for you. First, ANTiMATTER MATTERS. It's a quantum physics board game. We backed it on Kickstarter, and when we finally got it, we were thrilled. This game is not only educational, it's really fun. Bill and I play it regularly with company. AND they put a great deal of thought into making it accessible. Red/green colorblind, for example? That's ok! You can still differentiate between tokens by the symbols on them! The folks over at Elbowfish did a great job here.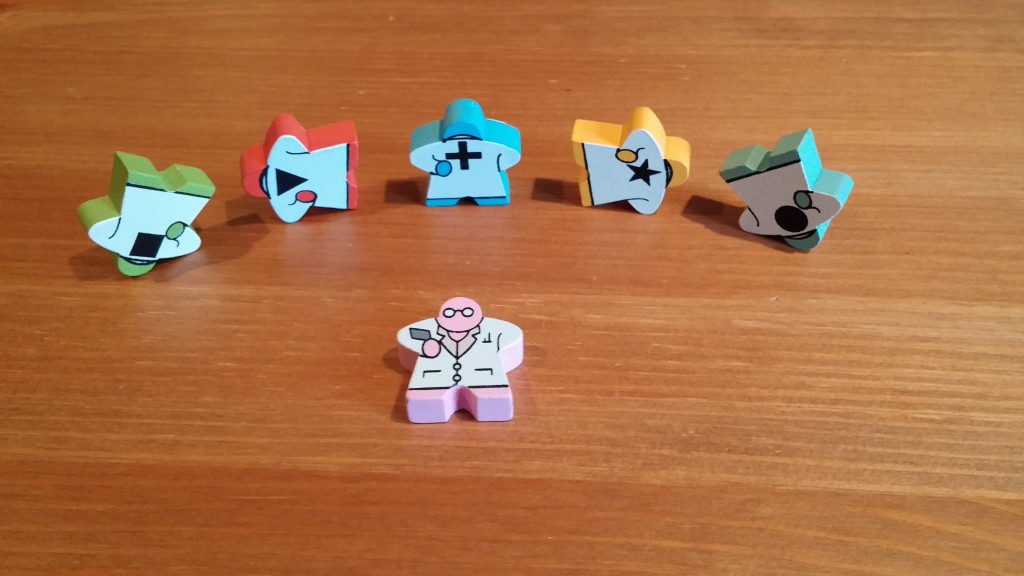 Secondly, we recently purchased our nephews this set of science toys, and we're told it's pretty popular. My sister-in-law sent this fabulous photo of her two kids playing with it, and my sister tells me her kiddos love it too.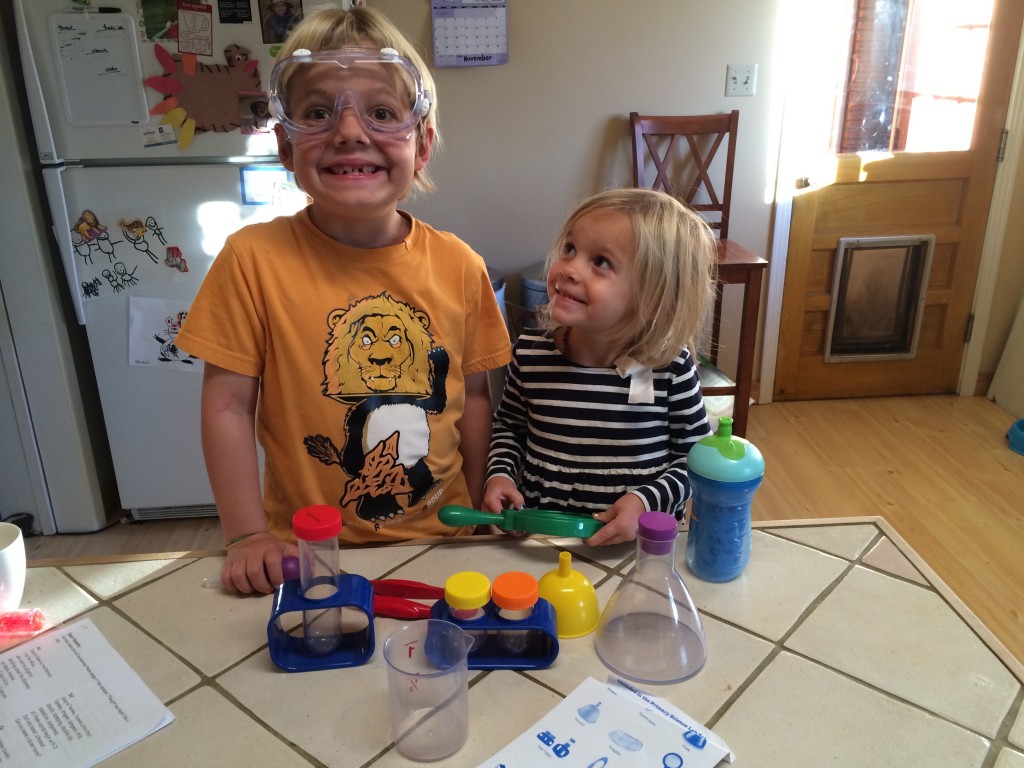 (Don't tell, but I'm thinking of getting that adorable little girl there this microscope from the same company.)
Finally? Consider ANYTHING at my friend Michelle's Etsy shop, Artologica. I purchased ornaments a couple years ago and could not be more thrilled with them. Some of her scarves also look delightful.
Beer & Other Beverages:
Cicerone Beer Style Cards. I have had two sets of these over the years. And I love them. They are simple flash cards that help teach about the basics of 47 different beer styles. I've not only enjoyed flipping through them and learning them myself, I have given a set away to a bartender at a brewpub in Albuquerque when he was super interested in them. I was thrilled to watch him show all his co-workers the cards.
Another fun idea is to give your friends bad beer. NOT a six-pack of homebrewed IPA that's been sitting in a clear bottle for two years… No, a course! I wrote about the Cicerone off-flavor course early last year, and highly recommended it. I still do. It's fun and super educational. (Tickets for the first post-holiday Chicago course are over at Brown Paper Tickets and you can find other towns and dates at the bottom of the Cicerone site.)
For the literary beer types, I like Tasting Beer by Randy Mosher This is a great book for a burgeoning beer lover, particularly if they are interested in a little of the history, some styles, & glassware explanations. It's decidedly more approachable than the Oxford Companion to Beer (which most geeks [including me] want, but isn't a beginner book, exactly).
For the tea lovers in your life, I can only recommend Smith Tea. I encountered them for the first time this year, in Portland, OR and fell madly in love with all the tea I tried. Especially the Big Hibiscus. The blends are lovely, and that hibiscus tea is both decidedly tasty in it's own right & the basis for a beer cocktail I'll be sharing a recipe for in early January.
Finally, for the coffee nut in your life, any of the coffee gift ideas Bill has suggested previously. (He stands behind the post; I checked.)
Food:
In some ways, my blog's food section is a more difficult set of suggestions for me. I'm not a beginner anymore, but I'm still not an expert. The sorts of things I use may be really different than what others use. Still, I'd suggest anything in this post of things I use all the time. Two years later, they're still in use as often as they were then.
Since then, though, I've added three things that make my life substantially easier. First is a basic canning rack1. I actually bought two, because they stack on jars & I can do two sets of half-pint jars at once in my canner/stock pot. For a very long time, I was using a bunch of bands twist tied together in a rigged-up rack. It worked, don't get me wrong, but it was fiddly & annoying. And I could only do one set of jars at a time.
Our old citrus juicer failed some time ago. Sorta. It was actually juicing just fine, but it was painted or enameled (unsure which) and that started flaking. Gross. We replaced it with a hand-held reamer, but that wasn't as effective AND tended to get juice into the cracks of our skin (one or both of us always has angry skin), so fuck that thing. We ended up going back to a lever-style juicer, recommended by Sweet Home. I love this juicer because it feels very sturdy, the ratcheting seems to get more juice out than the last lever-style one we had, and there is less splashing juice onto our angry skin.
Finally, my strongest food recommendation is The Flavor Bible. This is basically a giant index of ingredients and flavors that go well together. As someone who now has some sense of what "medium high" temperature is on her stove, but not necessarily that precious, perfect instinct (or imperfect instinct) for making dinner, this book has been an absolute savior. When I remember to use it. (Which I did for the pot roast in that sandwich above. YUM.)
Blather:
A couple of non-science games Bill and I have enjoyed a great deal over the years are Dominion and Love Letter. Dominion is a deck building card game that can be played two player or by a number of people. I love playing it in a mode where players are competing to win, but cannot actively interfere with one another. I usually lose, but it's fun anyway. Love Letter is a fast, easy, short game that doesn't take up much space. Another two or more player game, it would be pretty easy for kids as young as eight, I think, to figure out. But it's still random and challenging enough for adults to play and enjoy.
Other good things are a couple of books. Jane Yolen wrote my absolute favorite book on writing, ever, Take Joy. It's a wonderful exhortation to write, and a delightful antidote to the idea that artistry (writing in particular) must be painful. While it is VERY much a book geared toward writers and writing, I've always thought the messages on joy and inspiration would likely be a delight to any artist. Of course, any message that encourages being joyful should be, I suppose.
Finally, a book that utterly thrilled me when I received it as a gift almost eight years ago, Other End of the Leash by Patricia McConnell. I loved reading it when my M.Sc. advisor gave it to me back then, and now that I have dogs again, I am delighted to know I have it as a reference. Thanks, Lynne.
Final Comments
In the beer/beverages section, there's a few links to the Cicerone Certification Program; I work there part-time these days (since late September). I don't get a direct cut if you buy something, but them making money is thus good for me. As you can see from the link about the off-flavor seminar, I've been recommending folks attend one for almost two years, but there's still something strange feeling about suggesting that stuff now. Of course, I work for them because I really like the program, so maybe it shouldn't feel so odd.
Many of the other links, anything that goes to Amazon, are affiliate links. This means I get a tiny percentage if you buy the linked items or other things via Amazon after clicking, assuming you do not click someone else's affiliate link between mine and purchase. Your purchase price won't change. And if you do smile.amazon for charity, they stack. Basically, this is fabulous.
Next week, I'll write a bit more about money, blogging, and affiliate links. But know I recommend these products no matter where or how you buy them.
Finally, let me say how thankful I am you guys read my little corner of the Internet. I hope you all have happy holidays.
---
1 Combine these with The Complete Book of Small-Batch Preserving for a fun, less-daunting "kit" for a newbie canner. ➥