As most of you know, last Saturday I spent a solid chunk of the day at Emporium Arcade for a beer event. I was hoping to spend the day with at least 30 of my nearest and dearest beer friends.
It was more like 60 to 80 of my nearest and dearest. Holy Crap. It was unexpected and unbelievable. It was fun. It was so much fun. It's actually been hard to write up, because it was so much fun that it's been difficult to take it all in (still) and then put it all back out there for you.
Still, I want to do a bit more of a wrap-up than just the t-shirt contest post. (Still running, by the way! If you haven't voted yet, please do!) Ale Syndicate gave us a gift, day of, in support of our event – one of the cool brewery tin signs that so many folks collect. We loved it so much, we made it the 2nd prize for the beer t-shirt contest. We thought it seemed appropriate.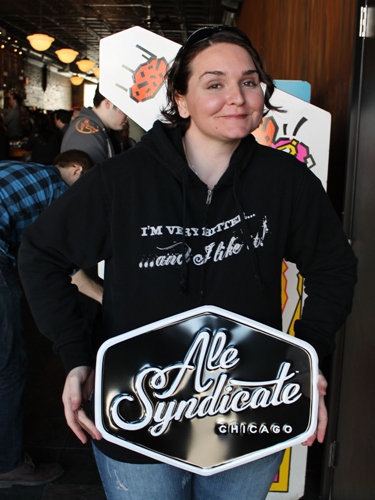 All sorts of amazing breweries came out and had fabulous people with them. It was a good time getting to chat with everyone. As you all know, that's what I do best, so I was in my element. What I wasn't doing, though, was playing my rounds of pinball (I only managed one!) to support the bloggers in the Bloggers vs Brewers Pinbrawl. Luckily, Eric of Blah… Blah… BEER! pulled through for us and won the whole shebang. Will of Flesk Brewing was close, though, and did a great job. I suspect that at Beer 2Up! Eric's going to have a challenge on his hands.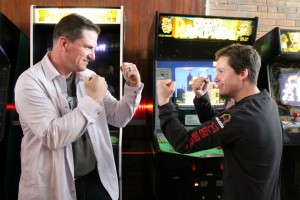 I watched some of the Brew Camp homebrewing demo. It was, frankly, awesome. It definitely makes me want to try again after my last disastrous attempt. I chatted with them after the demo too, and they are SUPER nice guys. I'm definitely going to be taking a class or 17 with them, as well as buying my equipment up there.
As I previously mentioned, the guys from Aleman gave us the first prizes for the t-shirt contest, which were highly appreciated. Both by us and by the winners. Those are some super nice guys, and I'm sorry I didn't get a great photo of them.
In addition to the breweries I name-checked above, Urban Legend was there. Arcade Brewing was there. Lake Effect was there. Atlas was there. It was amazing.
Begyle was there. Sadly for me, I missed trying their beer on tap! Too much chatting & the bar ran out before I got to it. Luckily for me, I tried their stout the very next day, thanks to a friend.
4 Paws had to cancel at the last minute due to an emergency. We were bummed, both to miss them and because emergencies suck, but raised a glass to them. We're thankful they were planning to come. I'm really looking forward to meeting these guys and trying their beers. They combine two of my favorite things: beer and dogs.
And, finally, I have to give a special thank you and shout-out, again, to my fellow bloggers, Jeremy of SubBeerBia and Eric of Blah… Blah… BEER! and their wives, Sadi and Sarah. Without all of them, this would not have happened. And it was EPIC. I couldn't be a luckier blogger than to have these folks in my corner.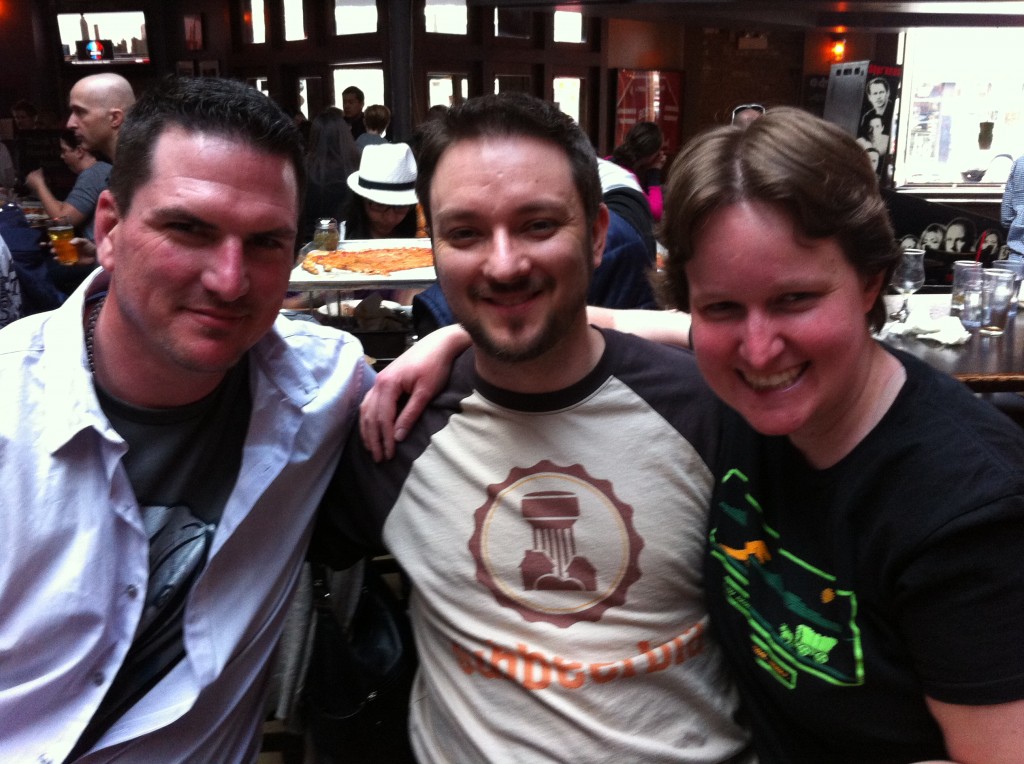 5 May 2013 Edit: Jeremy & Eric now have their posts up too. You should go check them out! It's fascinating to see the ways in which we saw the event the same way & the ways in which we saw it differently. So, check out Brewers, Bloggers and Brawls over at SubBeerBia and The Day That Was – Beer 1Up! over at Blah… Blah… BEER!.