As I mentioned in in my last post, thanks in part to my friend Toni over at Food. Just Sayin',I was invited to cover the 3rd Annual Bluechip Brewfest here on MetaCookbook, and so that's where I spent last Saturday. It means I got into everything for free, in exchange for wearing a big badge that said "media" and a promise to write it up here.
The Bluechip Brewfest set up is two VIP sessions and a general admission area with about 50 booths/breweries pouring, as well as a booth of fun sodas for designated drivers. General admission started at 1:00 pm and ran until 4:30 pm. The first VIP session was from noon until 1:00 pm, and was focused on food and beer pairings. The second VIP session was from 2:00 pm to 3:00 pm, and was a firkin1 tapping. Tickets for general admission were $40, general admission + 1 VIP slot were $75 and tickets to the whole shebang were $99. Designated Driver tickets were only $15. The media pass got me into everything, as well as the "swag" that comes with the $99 ticket. This included a t-shirt for the event, a pint glass, a glass-holding lanyard and a bottle opener.
Unlike Illinois fests, the event appeared to have unlimited pours. This is not a huge deal for me, but I know other people put a great deal of stock in it. Every ticket-holder got a pint glass that was marked with the pour line on it to take home.
For a variety of boring reasons, I largely missed the first VIP session, which was on beer and food pairings. However, I didn't miss out completely, and I very much enjoyed what I got to try. The highlight of what I tried was the pairing of Flat 12's "Van Pogue Porter" with cheesecake. I'd love to have a chance to try that again. Some vanilla notes in the beer played nicely with the sweetness of the cheesecake, and the carbonation cut through the thickness of the cheesecake. Quite nice. Special thanks to Kevin and his wife (whose name I have forgotten, unfortunately) from Pour Man Beer for tipping me off to this before it ran out.
The second VIP session, the firkin tapping, I managed to get in there and try almost everything. It was a fairly small session, with nine firkins being tapped, and also the least crowded of the sessions. I suspect this is because firkins, with their lower carbonation and higher serving temperatures, can just be a little odd. For me, this is actually a bonus, as it is for many people, but when I was first diving into beer it was a turn off. Who knows? I will say that cask-conditioned beers have, generally, been where I tend to like IPAs, and this was no exception. In fact, one particular highlight was Four Horseman Brewing Company's "Hop Rush" firkin. Delicious and decidedly hoppy without overpowering my tastebuds. 19 April 2014 Note: Sadly, it appears Four Horsemen Brewing Company is no more.
The general admission area was, as brewfests so often are, mostly a large room filled to the gills with brewery representatives and people trying the beers. There were about 50 breweries scheduled to attend (list in the photo below), and I think most made it. I didn't see 3 Floyds there, but I may have missed them as I tend to try places I've never heard of at brewfests.
Of course, I say that and then have to admit that my first stop in the general admission area was Greenbush. In my defense, though, I'd only really learned of them two days prior, at an event they ran. I loved everything I'd tried that night (including three IPAs!), so I had to see if they were pouring anything different. My luck was with me, and they were pouring totally different things. Between Kristi (my company at the event) & I, we tried their "Mammoth", "Apathy" and"Ursus". I enjoyed them all, particularly Apathy, and concluded Greenbush is a brewery that I need to keep an eye on.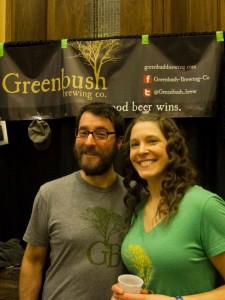 Another brewery I'm going to keep an eye on is Burn 'Em Brewing. They had four offerings at the fest (see below), but I only managed to try "Joey Wheat" and "Gluttony." Now, the "Gluttony" was decent, a solid Imperial stout that I'd love to try again, but the "Joey Wheat" is what really blew me away. It's a coffee wheat beer with a gorgeous deep gold color. It's powerfully coffee-flavored, but without any roasty notes that would have been off-putting in a wheat beer. I loved it and have every intention of having more as soon as I possibly can.
Incidentally, if a "coffee wheat beer" intrigues you, you should watch this blog. Occasionally I do unusual things that involve sharing beer. Just sayin'.
I also very much enjoyed Bulldog Brewing Company's "Roby Red Ale". I'd love to try more of their stuff, especially since at that point my tasting notes are mostly down to "yum" or not. This one definitely was.
I closed out the event at Four Horsemen's booth. I'd enjoyed their firkin "Hop Rush" so much that I'd wanted to make a point to try everything they had to offer. Luckily for me, this was their whole line-up (see photo below). While I expected to just adore the Blanton's bourbon barrel-aged stout, what really stood out for me was actually the Irish stout. Roasty and solid. This is a brewery I'd definitely like to visit again, and check out everything a bit more slowly and with less crowding.
So, that was my experience at Bluechip Brewfest. As I mentioned above, I didn't purchase my tickets, I was invited media. To me, this means that the end has to come down to the question Jarrod Reuben, former Goose Island Clybourn and Wrigley Brewpubs' brewmaster, always asked at least once per Beer Academy:
"Did you like this [brewfest]? Would you buy [tickets] with your own money?"
In answer to the first question, yes. I very much enjoyed this brewfest. And if I lived nearer Bluechip, the answer to the second would be a also be "yes". To reiterate, a general admission ticket was $40, one VIP session & general admission was $75 and to get everything was $99. While $99 may sound steep, I've paid that much for admission to other beer events and not regretted it.
Living in Chicago, my answer to if I'd buy tickets to go is still "yes", but a bit more hesitant, as attending this fest takes a lot of planning for me. While brewfests are often long, this event was an all-day affair for me. Bluechip Casino is about an hour and a half drive from Chicago, so I'd need a designated driver (and, frankly, a car), and I'm often hesitant to ask Bill to take a full Saturday carting me around to beer events. This Saturday, for example, he was happy to do so, but he also had a bunch of computer work he was able to do from anywhere that he wanted to get done. Ergo, he was just as happy to do it from a coffee shop in Michigan City, Indiana as he would have been somewhere in Chicago, including home. Other days, though, he'd probably be less thrilled.
That said, he and I are often up for a long drive, and so Bluechip Brewfest could potentially fall into place as a perfect piece of part of a planned day or long weekend trip. For an example day trip, I'd enjoy a picnic beforehand and dinner afterward. It's only about 20 minutes away from Indiana Dunes National Lakeshore. I think it'd be fun to leave earlier from Chicago and have a picnic lunch pre-fest at Indiana Dunes2. Then, of course, stop for dinner at 3 Floyds, because even if no more beer is needed that evening, the food is astounding and they often have six-packs to take home. A weekend trip could go up into Michigan after the fest and check out the state. I don't know much of what's up there, but it's gorgeous and I hear they have a delicious brewery or two I could check out.
---
fn1. I have learned that firkin is actually a unit of measure, but around Chicago (at least) it's come to mean "cask-condidtioned beers." I'm not sure why, or if this is a regional thing, but for the purposes of this post, this is how I'm using the word.
fn2. I'm assuming there's a place to do so. I've actually never been and really want to go. Everyone who ever talks about it makes it sound amazing. And Illinois, oddly, doesn't have any national parks or anything like that, so if I want to get my national nature in, Indiana Dunes is my closest choice.