Man, horrid title misspellings right after National Grammar Day? What is the world coming to?
Of course, I didn't misspell anything in my post's title. Not one word. Honest.
"The DuClaw" being, of course, the brewery in Maryland, not the seemingly unimportant part of a dog's paw (dewclaw), and "Antijenic Drift" being my very dear friend Jen, not a discussion of the arms race between our immune systems and pathogens.
Beer and friends. My life could be a lot worse.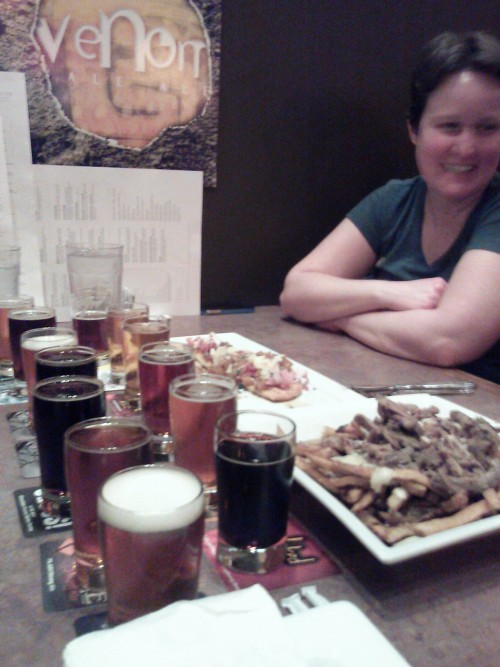 You guys may recall a post from about two weeks ago concerning the possibility that I might not make it to DuClaw while in Baltimore. After writing that, I realized I genuinely wanted to make a point to visit the brewery and try the Bad Moon Porter again. I wanted a sense of how my tastes had or hadn't changed and I wanted to check it out again and see what I might like now that I was much more aware of beer. There's a location out Jen's way, so she, out of the kindness of her heart, agreed to have dinner there with me. She didn't even kill me when it turned out parking at that location was clearly a sadistic game designed by some mad comic book villain.
Jen agreed to share a sample of EVERYTHING with me. I could assume this was just so she could prove to me she actually likes beer, but I think I'll give her the benefit of the doubt and assume it's because she was super enthused about trying all the things! I know I was. But, I always am. I love samples, flights and 4 oz pours.
So, what did all the things! entail? Appetizers, 14 beers (they do flights of up to "everything1 on tap"), dinner and four scoops of gelato. I regret nothing.
Here's how we did the night.
First things first, we ordered beer. At first, I attempted to get a small flight of just a few beers, but two things intervened. First, they are discontinuing Bad Moon Porter! So very sad. I will likely never try my first beer love again, if this is the case. Secondly? Who are we kidding? If you don't get the biggest flight they have, you get to taste fewer beers. Duh. Jen and I both knew there'd be beers we didn't like in the big flight, but we decided to share a full flight anyway. That also gave us the chance to compare our thoughts and what we tasted. Which is necessary. FOR SCIENCE. Or something.
At the same time, we realized we needed appetizers, because we were all famished due to parking lot insanity2. So we ordered some sort of flatbread/fried bread concoction with cheese, proscuitto and grilled pineapple on it. And "not-poutine". I don't recall what DuClaw called it, but it was a poutine relative. Bill was sure Jen would be offended at it's existence, but she was all over it. She said she was fine with it, since DuClaw did not have the audacity to call it "poutine" when it clearly was not.
Canadians. Such a strange people.
Jen and I then got so wrapped up in discussing our beer choices and likes and dislikes that we forgot to order dinner for awhile. We ended up trying all 13 beers between the three of us and then dividing them into three categories. "Jen's beers," "Natasha's Beers," and "Beers Not Worth Consuming." Bill, as you can see, didn't get a category. It's not because we don't love him (and, in fact, Jen's innate Canadian-ness may cause her some serious embarrassment when she reads this), but because he drinks so little. He's usually happy to just have a sip or two of anything I drink.
h2. Ten Noteworthy things
1) Jen really liked their Misfit Red, and I thought it was a solid beer as well. It went into Jen's stash, because I figured I'd like more beers than she did.
2) I was right3.

3) I fully expected to like their Mysterium, and did not. Too heavily spiced for my tastes.

4) Jen LOVED the Euphoria. How could you not? Toffee brown ale? Sounds fine to me.

5) The Sweet Baby Jesus! really did taste amazingly like peanut butter and chocolate. We all liked it and were confused by it simultaneously.

6) I still can't stand Naked Fish. It still tastes overpoweringly like raspberries. Jen and Bill, who like raspberries, also did not like it.

7) It turns out Jen is also not a fan of hoppy beers, so most of the IPAs were deemed unworthy of consumption.

8) Except, weirdly, the Serum XX double IPA. Which I liked rather a lot. I have no explanation for this.

9) The Winter Warmer Wheat "Exile" series beer tasted like spiced peaches to me. I loved it. Jen hated it. Apparently she doesn't like wheats.

10) For the life of me, I can't remember what the dark "Exile" series beer was. But Jen liked it, so I made her drink it. It was some sort of flavored porter.
We did order dinner, and it was quite tasty, but at that point we were mostly engrossed in conversation. I have no idea what everyone else thought of their meals. I liked mine just fine, but was pretty beer-focused.
Moving onto dessert was way more interesting. As I said it was gelato. And cake, which I didn't say, nor shall I mention it again. The gelatos were made with a beer, and then paired with a 4 oz pour of the beer they were made with. The dessert is four gelatos, and there are five to choose from. Jen and I, as I think all my readers will understand, choose the gelato made with Retribution as our fourth, since that's the only beer DuClaw does not put in flights. Our server actually advised us to go with the other choice (which I no longer recall), but new beer trumps good advice so often…
Retribution tastes an awful lot like Goose Island Beer Company's base Bourbon County Brand Stout to me. As I feel BCBS is a pretty confused beer, this wasn't a compliment to Retribution. However, I know I am in the minority on that one, so I suspect if you love BCBS and find yourself in Maryland, you should see if DuClaw is pouring Retribution.
Oddly, I don't know what Jen thought of it. She's going to have to comment and tell me.
I'm really glad I went back to DuClaw. I'm still a fan. Or maybe I'm really a fan, now that I have a much better sense of beer? I don't know. I know I'll want to go back again, even if I never see the Bad Moon Porter ever again.
---
fn1. It turns out "everything" is not true. They do not include their bourbon barrel-aged imperial stout, Retribution, in any flight. I have to admit, it was a bit frustrating to be informed of that after we'd ordered the "everything" flight. We did, however, get a sample of it with the gelato samplings.
fn2. I think Jen spent at least solid half an hour finding parking. I know Bill and I did. Then there was the wait. I think Jen being Canadian and thus very polite is the only reason she didn't threaten to stew and eat me as soon as she saw me.
fn3. Though it happens often, I always think my being right is noteworthy. I love being right.