Wow, you guys. Just wow.
So, first, I want to touch a little on my previous post regarding my giveaway dinner, where I discussed the importance of doing things ahead. I was right, doing things ahead vastly smoothed out the process of sharing food and merriment with my guests. What I didn't anticipate, and should have, was how much easier cooking ahead would simplify my cleanup process. It really did, you guys. And for that, I could not be more grateful.
You see, we spent a solid seven or eight hours with our guests. Seriously. We didn't get to bed until well after 1:00 am, which means we left most of the clean-up for the next morning. All I did was pour some water into each of the glasses to keep them from being extra gross in the morning.
Of course, part of this is because Bill and I were, in fact, having a total blast. We got completely lost in the conversation. And the food. Neither one of us thought to take a single photo of the evening. Suddenly, we're back to "Bad blogger! No cookie!" Oops.
So I did the next best thing. I photographed the carnage. The morning after. And I asked Matt, whom I sent all the leftovers home with, to please send me a photo of them. And it is with those photos I shall tell you the story.
First, appetizers. They failed me. I'm so very glad I had decided to do hummus & veggies as well as the special appetizer, pecan-thyme savory shortbreads. I made the hummus and shortbread dough on Friday, only to discover I could not get the shortbread dough to stick together. Eventually I gave up on it & threw it in the fridge to try again on Saturday. Only then I didn't get to it early enough, and it was too stiff to work with. ALAS! We eventually managed to eat them, crumbly as the were, with dinner. I also had some dough leftover for the next day. They were delicious, and the group destroyed them.
Dinner was vegetarian baked beans (a variant on these beans), made with 2/3 water and 1/3 Hoppin' Frog's Barrel-Aged B.O.R.I.S.. I also made Boston Brown Bread and a cold kale salad.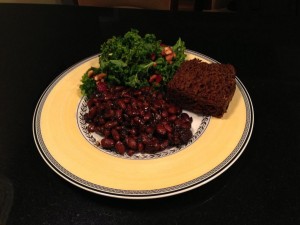 The intent was that the beans and bread would pair nicely with the dark fruit and roasty notes of the porter, and in particular some of the B.O.R.I.S. would come through in the beans and enhance the very slight fig notes in the beer. The pairing worked quiet well overall, but the B.O.R.I.S. flavor was lost in about the last hour of cooking. (I tried it several times to see if the beans were done.) The kale salad was intended to be a tasty contrast in all ways. Cold, crunchy, a bit bitterer than everything else on the table. That also worked well, including not being bad with the beer (it was a neutral pairing).
Dessert was, well, awesome. It was just the cake from this recipe made with 12 oz Brooklyn Brewing's Black Chocolate Stout and 4 oz Saganuck Pier Cove Porter. And it also went well with the beer.
And the bourbon we opened for Matt And the wine we opened. And the bomber of pumpkin lambic and the bomber of coffee stout I shared with Natalie and Melissa.
It was a great party. We kept our guests happy; no hunger or thirst for them! We talked about everything under the sun, from technology to meteorology to farming practices to if you have to be able to kill an animal yourself to be a meat eater. I do wonder, though, why the deepest philosophical or scientific questions always come up late in the night, after a few rounds.
All in all we had a fabulous time, and I think I'll run another event like this again. Of course, now Melissa and Natalie are welcome to come over whenever, so the will be ineligible for the next giveaway. Darn?
There's probably a reason I bought this t-shirt from Threadless.