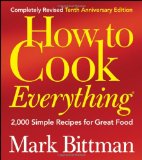 Last year, Bill and I accidentally started a tradition. At least, it felt that way to me earlier this month, when I was thinking about what to cook for dinner.
Apparently, I felt that way last year too. Even though I made some mistakes last year.
This year was also good, but not as good. I didn't like the wine as much (a Washington State Malbec vs a Chilean (I think) Pinot Noir). This was a bone-in roast, and also had substantially more fat on it. The rancher (same as last year) had also had the bones cut off the meat, then tied back on. I do not know why, but it prevented carving the way Mr. Bittman suggested.
Anyway, I thought you guys might want a quick look at what we had.… Continue reading →