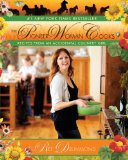 I made this soup based entirely on the name and the photos in the cookbook. It's right next to the cornbread recipe, which is my new always & forever cornbread recipe (unless I have to make some other recipe to advance the challenge, I suppose), and it taunts me every time I go to make cornbread.
That's more often than you might think, actually. We've become a little obsessed with "her cornbread":http://www.metacookbook.com/archives/123-67-Skillet-Cornbread.html because it's delicious.
I have to admit, I rarely am motivated to try something just because it sounds or looks good. Obviously, that's a pivotal part of the process, but it doesn't usually start there. Usually, it starts because I have an ingredient I want to try or use up, or I have a method I want to learn more about, or I'm "desperately seeking a vegetarian meal":http://metacookbook.com/archives/211-Whats-the-longest-youve-gone-without-eating-meat.html or, on very rare occasions, I just want to use a particular cookbook.
As I type it out, that sounds like a fairly strange motivation set, barring the "I have an ingredient I want to use up." I imagine more people make food based entirely on if it sounds or looks good.
Well, I'm going to go onto the recipe, but what about you guys? What's typically your primary motivation for choosing a recipe?
h2. Ingredients
1 medium onion, diced
6 tbsp butter

46 oz tomato juice

29 ounces diced canned tomatoes

3 – 6 tbsp sugar

1 – 2 tbsp chicken base or 3 chicken bouillon cubes (I used 1 tbsp base, once I figured out what "chicken base" was, & that I owned some.)

Fresh ground black pepper

1 c sherry (Optional; I used cream sherry, because it's what we had on hand.)

1 1/2 c heavy cream

1/4 c chopped parsley (I used 3/4 tbsp dry.)

1/4 c chopped basil (I used 3/4 tbsp dry.)
h2. Instructions
Melt the butter in a large saucepan over medium heat, and then sauté the onion until it's soft & a bit golden. After that, pour in the diced tomatoes, tomato juice and 3 tbsp sugar. Stir it up and taste it. You want the sugar to reduce the acidity of the tomatoes, but not so much make the dish sweet. Add more sugar if needed. Once you're done with the sugar, add 1 tbsp of the chicken base or 1 bouillon cube. Again, start on the low side, and taste and add more until you like it. I only used the 1 tbsp, but who knows?
Once the tomato mix is to your liking as a base, add in as much freshly ground pepper as you can stand. For me, this isn't so much. For others, like Bill, it's a ton. In this house, we usually go for somewhere between the two. It always turns out I can stand more than I think I can, but not as much as he likes. Bring the soup almost to a boil, then turn off the heat. If it boils, I don't think it's a big deal, just let some time elapse before moving on, so it can cool some.
Stir in the sherry, then the cream, then the herbs. Taste it, and see if it needs anything else. If so, add it. If not, keep it warm until you're ready to serve it.
h2. Cooking and Consumption Notes
h3. Cooking
This recipe is exactly as easy as it sounds. In effect, you're opening a bunch of cans or bottles and mixing them up over heat.
That's not to diminish the tastiness of the meal; it's really tasty. It's to encourage those of you who want to dip a toe into "cooking" to try it. This is something I would have been able to handle in college, living with Otsana. Of course, I wouldn't have, because I was adverse to almost all things tomato back then, but I could have!
Just don't let the cream boil, and you're set.
h3. Consumption
The photos didn't lie to me. This soup is really, really good.
Bear in mind it is slightly alcoholic, as there's no point after the addition of the sherry that you really evaporate off any of the alcohol. I didn't notice any alcoholic bite or effects, but I figured I'd throw that out there for anyone who has any reason to want their soup not to be at all alcoholic.
This is slightly sweet, but not overly so, and has a hint of the chicken in there, but it's not powerful or overt. It's mostly exactly what it represents itself to be: a sherry & cream tomato soup. One that should really be served with whatever is your favorite bread for mopping up the last of things in a bowl.
And maybe a salad. In case you need some crunch. So, so good.
Oh, and be aware: This recipe makes a TON of soup. See those two things of soup in the photo? That's just the leftovers. I sent the square one to work with Bill for him & his coworkers, and kept the round one (aka, the smaller one). I had lunch for DAYS.
Tomorrow! More beans! Stay tuned!