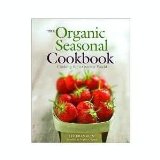 As I mentioned in the cookbook entry for this book, I read this book cover to cover and so I got a great sense of what was in it. Thus, when I was looking for a recipe that used a bunch of leeks, but was easy to make, I thought I had something in this book.
Thankfully, I was right, because I had a pile of leeks to use up, didn't want to have to find another recipe, and was pretty sure our darling Rob hadn't thought of any side dishes for the turducken he was making that weekend. (Note, to this day I don't know if I was right. He didn't make any side dishes, but whether this was because he hadn't thought of any or because I volunteered to bring one, I will never know.)
Yes, I had turducken and leeks and "sweet potatoes":http://www.101cookbooks.com/archives/000589.html and biscuits for the Bears/Packers playoffs.
The food was good, but nothing was going to bring up the mood that day.
h2. Ingredients
Note: I apologize, but I didn't manage to get an ingredients shot for this one. I was cooking for friends, didn't have enough light, and was not about to request more while everyone else was on the edge of their seats wondering if the Bears' 3rd string quarterback was going to manage to pull the Bears into OT.
For the leeks:
9 chubby leeks, trimmed, halved lengthwise and thoroughly cleaned

Juice & zest of 1 lemon

1 tsp superfine sugar (I used regular sugar.)

Scant 3 tbsp butter

5 tbsp marscapone cheese

Salt and pepper
For the Poor Man's Parmesan
2 tbsp butter

1 c fresh ciabatta crumbs
h2. Instructions
Preheat the oven to 375F. Place the halved leeks in an ovenproof dish in a single layer. Drizzle them evenly with the lemon juice and scatter the zest and the sugar over them. Season to taste with salt and pepper and dot evenly with the 3 tbsp butter. Bake in the preheated oven for 15 minutes, or until the leeks are beginning to soften and caramelize.
Meanwhile, make the Poor Man's Parmesan. Melt the butter in a skillet over medium heat, then add the bread crumbs. Cook, stirring, until they are crisp and golden. Sprinkle with a little salt and pepper and set aside.
When the leeks are beginning to soften and caramelize, remove them from the oven and evenly dot them with the marscapone cheese. Sprinkle the Poor Man's Parmesan over the whole dish and return to the oven. Bake for an additional 5 minutes, or until the marscapone has melted and the crumbs are hot and crisp. Serve immediately.
h2. Cooking and Consumption Notes
h3. Cooking
Once again I'm posting what should be a pretty straightforward recipe. If you expect I subsequently won't have much to say, I can't blame you. But this time, you'd be wrong.
So, I was VERY excited to make this recipe, but I was going to be doing it in someone else's kitchen. Rob had invited us for turducken on Friday, so we made plans for Saturday. Then he realized he couldn't possibly get home from work and serve turducken at a reasonable time for dinner, so asked us for Saturday. We asked him to move to Sunday, and he said he'd be happy to, but we'd have to move to T's house for the Bears/Packers play-off game.
That Sunday, I got everything I needed to make this recipe together, even the sugar and butter. I presumed T would have those things, but I wasn't positive, and certainly couldn't be sure I wasn't going to be using up the last of her butter. (Who knows how often other people go shopping?) Plus, really, I said I'd bring ingredients and make food there; it seemed rude to use up any of hers. So I got all the ingredients together, and then when it was time, Bill and I headed out the door with Rob.
Go ahead, reread that last sentence. I'll wait.
Yup, I used the cookbook to get together my ingredients, but then forgot to pack it up and bring it with me. That actually makes it really difficult to cook specifically from a recipe. I ended up having to wing it. And I think I did a very good job, given that I was cooking from memory and my own lackluster cooking skills.
The Poor Man's Parm was fairly easy to remember, and thus make. As for the leeks, I didn't get it totally right, but I was in the ballpark. I only baked them until they were softened and starting to caramelize, and I put the cheese on right away with the butter, not after they'd cooked some. I definitely did not think to put the whole thing back in the oven for any amount of time. Oh, and I totally forgot to zest the lemon, I just used the juice.
Oh, and I totally used my 4 c food processor again to make the fresh breadcrumbs before I left for T's house. It worked really freakin' well.
h3. Consumption
So, what does this recipe taste like when you don't quite do it right?
Pretty good, but not great, actually. The people I was cooking for all enjoyed it quite a bit. I enjoyed it as well, but wished the crumbs were a bit more crispy or flavorful. I imagine that the second round in the oven would have helped with that.
I think the flavor would also have been extra nicely boosted with the added lemon zest. Also would have helped the flavor? Thinking to ever pull out the salt and pepper… (This is one of the differences between me and a good cook.)
I'm looking forward to making this one again, and properly. I'll post an update when I do. Otherwise, if you make this, please let me know what you think of it. I'm curious about others' opinions.