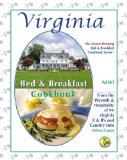 I totally got this book at a Virginia Costco. I, personally, think that is cool. At the time, I didn't expect Costco to have books of any sort, much less nifty-neato cookbooks like this one. I now know otherwise, of course, but at the time it was a totally new idea to me.
I was, with my ex-husband, going through something of a bed & breakfast phase. We'd gone to at least one for an anniversary trip, maybe two by then, and liked to contemplate more.
I still like to contemplate more, but the traveling around has been mostly reduced. Maybe next time we go visit New Mexico Bill and I will look into staying in a B&B. More likely, though, we'll just keep staying with friends and at an airport hotel the night before we fly out at why-the-hell-is-our-flight-so-early-like-before-breakfast-starts-early.
I've made one recipe out of this cookbook repeatedly over the years, the "Chicken in Orange Sauce" and only just figured out yesterday, as I was looking through this book for dinner inspirations this week, that I've been using the wrong kind of chicken the whole time. I bet it's better with whole breasts, rather than boneless, skinless breasts.
Number of recipes in this book: 140 (Estimated)
Number we've made: 1
You can click the "virginia bed and breakfast cookbook" tag below to see all the recipes we've made from this cookbook.