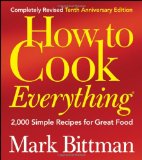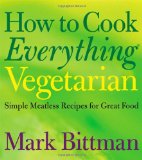 I believe this is the first time I've discovered a recipe is in both cookbooks prior to posting. Thus, this entry is labeled as two recipes as discussed "here":http://www.metacookbook.com/archives/87-Well,-was-it-a-new-recipe-or-not.html and "here.":http://www.metacookbook.com/archives/90-46-Pasta-Carbonara.html As I type this, I get a vague feeling as if this is NOT the first time this has happened, but a quick scan of my archives via tags doesn't net me another set of recipes like this. This is also altogether different from "recipes 84 & 85.":http://www.metacookbook.com/archives/154-84-85-Bacon,-Roasted-and-Microwaved.html
So, now that we've cleared that up, on to the write-up.
Another super simple recipe. I picked it because I had a couple of sweet potatoes, and I just wanted to bake them and eat them. I figured Bittman's book would give me the exact temperature and timing. If I hadn't had this challenge going on, and this cookbook around, I would not have thought to grab a cookbook, but would have just baked them like I do normal potatoes.
I'm actually really glad I didn't do that. The recipe is simple, but reading and following 1) had my sweet potatoes cooked much faster and 2) prevented my (probably) having to clean the oven. Or just having a very smoky oven for awhile. I didn't realize how much sweet potatoes "leak" as they're baking. As you can imagine, the second point is really the one that makes me extra happy I went looking for Mr. Bittman's advice.
Before we go on to ingredients, I will say that the true title of this recipe, in both books, is "Sweet Potatoes, Simply Cooked", because there are three ways to cook this delicious tuber "simply". So expect more to come. Possibly later this week, as I have a giant sweet potato and a night to myself coming up!
h2. Ingredients
2 large or 4 medium sweet potatoes, about 1 1/2 to 2 lbs total
Salt and freshly ground black pepper
h2. Instructions
Preheat the oven to 425F. Wash the sweet potatoes and poke each with a thin-bladed knife in a few places. Place them on a foil-lined baking pan and bake, turning once, until very tender, about an hour. Serve immediately with salt and pepper and, if you like, butter.
h2. Cooking and Consumption Notes
h3. Cooking
Okay, honesty alert:
I seriously regretted my "save the environment" inclination to not line the pan.
Now, in truth, this is probably not JUST because sweet potatoes leak. However, it turns out they do, so I'm really glad I used a baking pan instead of poking them and throwing them straight on the oven racks, as was my original plan. However, they leak kind of impressively, and they made a hell of a mess of my pan. That probably would have been fine, if a bit annoying. What wasn't fine was the fact that I made them as a side for a dish-heavy main course, and had no place for the baking pan. So, of course, I stashed it back in the oven. Then forgot about it the next time I preheated the oven, and the caramelized bits of sweet potato attempted to become one with the pan.
I used a lot of elbow grease to clean off those pans, and I cussed at myself the whole time. I apologize for the slightly out of focus photo, but it allows you to infer why I cussed so much.
h3. Consumption
I love sweet potatoes, but these were the best I'd ever had. I got a variety called "Garnet", and we baked them as a side for Salmon with Buerre Rouge. So good. I have, all my life, doctored sweet potatoes with butter, at least. These babies didn't need to be doctored with anything. Bill and I both ate them (mostly) straight.
Some bits did get the Buerre Rouge on them. That made an already lovely side dish spectacular.
Check out how gorgeous they are, straight out of the oven: