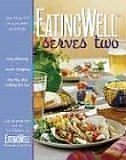 Anyone who knows me knows I love my desserts an awful lot. I pretty much will not pass them up if offered, and I choose to get a dessert (hopefully to split with someone) almost every time I eat out with any deliberation (meaning, not the days Bill and I look at our well-stocked pantry and say, "There's nothing to eat!").
Dessert at home is a much more rare occurrence. We occasionally have ice cream in the freezer, and I occasionally will bake something in advance. However, because of my tendencies to hoover down desserts, we try not to keep these things around. If I bake cookies, I try to give at least some of them away. We only buy ice cream in pint sizes, and then make them last two to three days (with each of us having some).
The other night, though, I realized I kind of wanted a slightly sweet thing after dinner. I didn't want too much, and I didn't want it sticking around. I also wanted something I could whip up while Bill was in the other room fighting with some computer stuff. I figured I'd be out of luck, but this recipe jumped out at me and said, "Make me!"
It's easy, tasty, and perfect for a couple who want a small dessert without breaking the caloric bank, I think.
h2. Ingredients
Filling:
1 1/4 c fresh or frozen fruit (I used frozen blackberries from our summer hoard.)

1 1/2 tsp sugar

1 1/2 tsp all-purpose flour

1 1/2 tsp orange juice
Topping
1/4 c old-fashioned oats

3 tbsp chopped almonds

4 tsp brown sugar

2 1/2 tsp all-purpose flour

Pinch of cinnamon

1 tbsp canola oil
h2. Instructions
Preheat the oven to 400F. Combine the filling ingredients in a bowl. Once the fruit is thoroughly covered, divide the filling between two 6 oz, ovenproof ramekins. Combine the topping ingredients, except the oil, thoroughly (you can use the same bowl with no ill effects), then drizzle the oil over the dry ingredients and mix again. Divide the topping over the two ramekins, then place the ramekins on a baking sheet (to catch any drips) and bake about 20 – 25 minutes; basically until topping is golden and fruit is bubbling.
h2. Cooking and Consumption Notes
h3. Cooking
I'm a big fan of recipes that are, essentially, "dump stuff in a bowl and mix, then cook". Sure, this recipe has two such steps, but that's not a lot more complicated than just one.
I didn't have chopped or slivered almonds on hand, so I had to make due with chopping whole almonds. This is easier than it looks, and gets easier once you kind of learn to do that rocking-chopping knife motion. Or get one of those neat "ulu knives":http://en.wikipedia.org/wiki/Ulu and chop 'em up that way1.
Definitely make sure to put the ramekins on a baking sheet of some sort. I got lucky and didn't have any overflow issues, but I can see how it could easily happen. And then your oven smokes all the way through your date2! No good.
Finally, the top will not turn terribly golden brown. This is okay. You could get more browning by adding a bit more oil to the topping, but I don't think it's worth the increased calories (especially because it won't really increase the flavor much).
h3. Consumption
Taste your fruit before you throw everything together. I didn't think to, and I ended up with a tarter end product than I'd expected. It was still quite good, but I think it would have been much tastier with a bit more sugar in the filling mix. Taste and add accordingly.
Otherwise, this was just about the perfect throw-together dessert. The topping doesn't have quite the sugar kick we tend to expect from crumbles, but that's okay. I think sometimes in some desserts the toppings overpower the fruit. The almonds are really a nice touch, though next time I would toast mine for about five minutes first. If you have raw almonds or almond bits, consider doing the same, but if not, don't bother.
This is a definite keeper. I will likely make it again, on occasion, with other fruits. Probably a blueberry crumble is next in the works. With toasted almond bits. Peaches would also be quite tasty.
---
fn1. Confession: I saw a photo of an ulu-style knife for the first time when I was in middle-school or so. I have wanted one ever since, but never purchased one. I think I'd use it all the time, but don't know where in the kitchen I'd put it!
fn2. Not that I posted this at the specific request of anyone who's having a date anytime soon or anything.