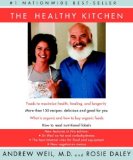 This is the only recipe from this cookbook I'd ever made before this challenge. I liked it.
I should say, for the record, that I like the photos in this book. There aren't a lot of them, certainly most recipes do not have a photo associated, but the photos of Weil & Daley cooking and eating, or of random food are just great. There's a lovely photo of kale in there; I think it's growing in Weil's backyard.
I'm saying all of this because, so far, we have disliked or been indifferent to more recipes in this book than we have liked. I occasionally think it's time to eject the book from the challenge. I don't think we're going to yet, but it comes up often.
Not with this recipe, though. Once again, I made this recipe and really enjoyed it. Of course, it's incredibly simple, and that helps. It also makes for a good, though easy dessert, if you're willing to think of fruit as dessert. The night I made this for the first time, that was my intent.h2. Ingredients
6 apples, peeled, cored and sliced (They say this is about 6 c apples.)
1/2 c apple juice (I used apple cider.)

1 tsp cinnamon (This will actually be to taste.)
h2. Instructions
Put the apple slices and juice in a small saucepan with a lid. Cook, covered, over low heat until the apples are tender and most of the liquid is absorbed, ~10 – 20 minutes. Break up the apple slices with a fork or use a blender and blend until smooth. Stir in the cinnamon and stir until it's fully integrated in the apples. Let it cool to whatever temperature you want to serve at.
h2. Cooking and Consumption Notes
h3. Cooking
As you can see, this is pretty simple. Peel some apples and slice them up, cutting out any bad spots. Then put them with some apple juice (water works too, but results in a slightly less good taste) and cook until you get the consistency you want.
I always end up cooking for a lot longer than Weil & Daley recommend, usually about an hour. I don't think this is an error on their part, for once, just a difference in how I like my applesauce.
h3. Consumption
Tasty.
I actually didn't know that Bill really loves applesauce. The night I made it he was not only pleased, but mentioned he likes fresh applesauce so much that it never makes it into the fridge. It's all consumed the day it's made. This was no execption1.
Do taste your sauce before adding the cinnamon. I have almost never needed the full amount called for in the recipe. You want some delicious cinnamon, but part of the idea is to taste the apples. Add the cinnamon to taste and enjoy immensely.
---
fn1. Though I made it again, a few days later, with water and doubled the recipe. We had leftovers that day. Turns out you can make enough that Bill won't eat it all.