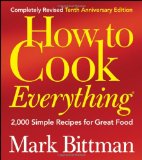 This recipe seems simple enough. It seems like it would be a great recipe for a novice cook who wants to impress a date, though it concedes that the cook will have to take a bit to get it right.
I think it lies. I think it's tricky and complicated. I think a novice cook would do well to test this one on a friend before pulling it out on a date.
Either that, or I just cannot manage fish and sauces yet. Either one.
It was a fairly tasty meal, but the fish ended up a bit mangled and the sauce was nowhere near what the book said it should be like. I suspect it was close in taste, but not texture. Texture is always what I struggle with in sauces.… Continue reading →