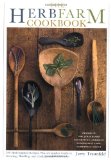 Poor Bill. He's going to find out the same way the rest of you do about this. This?
This falls in the category of, "Well it was bound to happen, and one night it did. Papa came home and it was just us kids…"
Wait, no. That's just the song that got stuck in my head when I saw this wonderful present from my parents this evening. Why? Because it was bound to happen.
Bill and I have been given another cookbook. This one. Possibly two others; I have to take a closer look at the other book I got and see if it's a cookbook or something else. I requested the other one thinking it was a book with some recipes in it, but the back cover is making me think I actually asked for a cookbook.
Anyway, so this book. I don't know much about it, but it sounded lovely when I longingly added it to my Amazon wishlist earlier this year. I'd been reading the archives of "this blog":http://blog.kitchenmage.com/2005/04/index.html and this cookbook came up a lot. Apparently it's the cookbook from a restaurant of the same name in the Pacific Northwest, and "kitchenmage" really enjoys (or enjoyed) both the restaurant and the cookbook.
The theme is, as you can imagine, herbs. And she made visiting the restaurant sound magical. And maybe the book captures a whiff of the magic.
I never did manage to make it through her archives. I can't tell you why; she's not a bad writer. I may start up again. I may not. We'll see what 2011 brings. But that's the story of this book. We have other books waiting to be documented in this list, and this will give me a jump of motivation to get that done. If I'm not too busy being sucked into this book.
If you're reading this Mom & Dad, thank you. It looks gorgeous, and I can't wait to dive into it. Even though it adds about another 100 recipes to our challenge, I can't help but be excited about it. Especially since it reminds me, due of the theme, of a very old cookbook I used to own and can no longer find called, "The Herb Cookbook." I loved that cookbook, and I don't know what I did with it. I really appreciate this gift.
Number of recipes in the book: 200 (from the cover)
Number we've made: 0
You can click the tag "herbfarm cookbook" below to see any recipes we've made from this book.