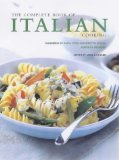 This is the only recipe out of this book I'd ever made before this challenge. I've held onto these books (this one and the similar looking cookie cookbook) out of a deep affection for the people who gave them to me more than out of a feeling that they're fantastic cookbooks.
You know what, though? They're growing on me as cookbooks as well. The cookie book has had a few good ones and some poor ones. The previous recipe on this blog from here was stellar, and this stroganoff recipe was even better than I remembered it being.
So, so good.
I don't tend to think of stroganoff as an Italian dish. If someone asked me to guess, I'd guess German. I don't actually know that either one of those perceptions is in any way correct, but there you have it. After I type and post this thing, I'll go wander over to that bastion of knowledge and lost time, Wikipedia, and "ask" it about the origins of stroganoff.
Or I'll end up having to leave right then to meet my friend at the train station. Who knows? What I know is that you should definitely make this recipe, and make it with a variety of mushrooms.h2. Ingredients
1/4 c butter
2 garlic cloves, minced

1 onion, sliced into thin wedges

1 1/2 lb mixed mushrooms (oyster, crimini, etc)

3 tbsp all-purpose flour

2/3 c vegetable broth

3 tbsp dry white wine

1/3 c heavy cream

Salt and pepper

3 tbsp chopped fresh thyme

2 tbsp paprika

1 1/2 lb cooked tagliatelle, tossed in butter, to serve (We used mini-bowties.)
h2. Instructions
Melt the butter in a large saucepan, then saute the garlic and onions for ~7 minutes, until the onion has browned slightly. Add the mushrooms and cook for 2 minutes, then stir in the flour. Cook for 30 seconds, then gradually stir in the broth and wine. Bring to a boil, then season with salt and pepper. Stir in the cream, thyme and paprika and cook for another 2 minutes. Serve over the buttered pasta.
h2. Cooking and Consumption Notes
h3. Cooking
One of the good & bad things about this cookbook is that the instructions are actually fairly sparse. That leaves a lot of room for "figure it out your own damn self." So far, I've done okay, but it leaves me wondering when the inevitable completely messed up recipe happens if it'll be me or their instructions.
Anyway, the good news is that this recipe is actually as straightforward as it sounds. It's, as one friend keeps asking for, "a good recipe for a bad cook." Or so I think.
I advise just a few small things. One, when you're stirring in the flour, aim to have no lumps. When you're working with a lot of flour, that can be hard, but it shouldn't be too bad here. Secondly, when you're stirring in the broth and wine, toss the wine in first, then the broth. That gives a slight chance for some of the alcohol to be cooked off. Stir like crazy when you're adding those two, to help make a glaze that covers everything.
I imagine you shouldn't boil the cream, but I bet it won't be the end of the world if you do.
Finally, the butter in the pasta isn't for flavor so (and I say this with a heavy heart), go easy on it. You're basically just trying to keep the pasta from sticking to itself while working on the stroganoff.
h3. Consumption
So very tasty. Definitely one to add to "the rotation". If I had one. It's quick and easy and quite delicious. I would go so far as to say that this could be a weeknight meal for almost anyone.
Okay, time for some of the crazy-talk. Don't leave out the paprika. I did this the few times I made this recipe before, and it was good, but not great. Making it correctly this time really elevated the whole thing. (And it's a lot of paprika, so it's no wonder.) I don't know why I didn't use paprika before; probably didn't have it on hand. I now regret my error.
We bought a "mushroom medley" from the mushroom farmers at the farmers' market. It had shitakes, oysters and criminis in it, and they each came out slightly differently. I think this recipe would be top-notch with just any one of them (though pure oyster mushrooms might be a bit weird), but all of them helped make it killer, I think. As much as I think a stroganoff with just oyster mushrooms might be strange, I do have to say they were my favorite mushrooms in the dish. So, you know, maybe be adventurous and try it.
Or don't be adventurous, but still try it.