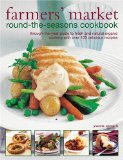 I recently went to Elephant and Castle in Chicago with Grace.
Oh, wow. "Recently" wasn't that recently at all. I just realized this would have been the week before Halloween. Huh.
Well, anyway, the point is that we went to Elephant and Castle after going to the farmers' market. Grace wanted something that was not terribly expensive, but with plenty of space to sit down. I don't know the area as well as I'd like, and the places that aren't E&C I know down there are all basically fast food.
Once we got there, we settled in to order. What I got was clearly not very memorable, because I don't remember it. Grace, however, got the steak and ale pie. When it came out, I couldn't help but marvel at how pretty this miniature pie was, and how tasty it looked, especially with a nice green salad next to it. Sure enough, she let me have a taste, and it was pretty darn good.
So when I saw this recipe in this cookbook, it basically jumped onto my "to make" list. I was especially pleased with the addition of mushrooms to the pie, as I love them. My feeling? This recipe calls for beef, beer, mushrooms and puff pastry. There's no way it's going to be bad.h2. Ingredients
2 tbsp olive oil
1 large onion, chopped

1 1/2 c mushrooms, halved (We used chopped portabellas, actually.)

2 lb lean beef, such as rump or braising steak, trimmed of fat and cut into 1″ cubes

2 tbsp all-purpose whole wheat flour

3 tbsp sunflower oil (We used vegetable oil.)

1 1/4 c stout or brown ale (STOUT!)

1 1/4 c beef stock

1 1/4 lb puff pastry, thawed if frozen

1 egg, beaten, to glaze

Salt and Pepper
h2. Instructions
Heat the olive oil in a medium-large dutch oven or saucepan. Add the onion and cook, stirring occasionally, over medium heat until it is soft, but not browned. Add the mushrooms and cook another five minutes, stirring occasionally.
Season the flour with salt & pepper, then coat the meat in this mixture. Once the mushrooms & onions are cooked and the meat is coated, remove the veggies with a slotted spoon and set aside. Add the sunflower/veggie oil to the pan, allow it to heat up over high heat, then brown the steak in batches.
Replace the veggies in the pan, then stir in the ale and the beef stock. Bring the whole concoction to a boil, then reduce the heat and simmer for about an hour, stirring occasionally (until the meat is tender). Season to taste, the transfer it all to a 6 1/4 c pie pan. Cover and allow to cool. If you have time, refrigerate overnight to allow the flavor to develop.
Preheat the oven to 450F. Roll out the thawed pastry dough into the shape of the dish, and about 1 1/2″ larger all around. Cut 1″ from around the edge, then brush the rim of the pie plate with water and press the pastry strip onto it. Brush the pastry rim with the beaten egg and cover the pie with the pastry lid. Press the lid firmly into place and then trim the excess pastry from around the edges. Seal the pastry rim, then flute the edges. Decorate the pie with the excess pastry if desired. Make a small slit in the top of the pastry lid to vent steam during cooking, then brush the top carefully with beaten egg and chill for 10 minutes to rest the pastry (it gets tired).
Bake the pie in the preheated oven for 15 minutes, and then reduce the temperature to 400F and bake another 15 – 20 minutes, until the pastry has risen and is golden brown. Serve hot with a side of delicious veggies or fries.
h2. Cooking and Consumption Notes
h3. Cooking
Well, my first piece of advice is to write down what you need before you go shopping. I know you're thinking this is obvious, but I still forgot to do it before heading to the farmers' market. So I couldn't remember what kind of meat or how much to get. I spoke to the farmer about what I was making, and he suggested a pound of sirloin tips. So that's what I got. Too bad I needed two pounds of beef.
Luckily, my freezer came to my rescue. I was pretty sure I only had ground beef left in it (in the beef category, anyway), but I managed to dig up several small slabs of London broil. Now, I had (and still have) no idea if this was a good cut for this preparation, but I had almost no time left, and I did know it was better than ground beef. Or chicken. Or salmon. Or beans.
It worked out quite well, I say. Certainly it wasn't too tough or weird, and I couldn't tell the difference between it or the sirloin tips after cooking.
Secondly, puff pastry is a pain. It took forever to thaw, and was both delicate and sticky when I started to work with it. I've since come to the conclusion that delicate puff pastry is probably not-quite-thawed-yet puff pastry. So my suggestion is that if your pastry starts to crack as you unfold it, stop and let it thaw some more.
Continuing the theme, if you don't have time to refrigerate overnight, consider when to roll out the pastry. I rolled mine out way too early, which meant it warmed up way too much and got too sticky. I suggest not rolling the pastry out until you're, at a minimum, in the "allow to cool" stage of making this dish. I don't think the "stew" part needs to cool all that much (more if you're using a pyrex pan, as I was), but having a cooling stage allows for a good idea of when to roll out the pastry. I rolled it out while the stew was cooking, and that made my life harder.
Final note on the pastry: I was not able to make it pretty or stick well. Or puff. I wish you the best of luck!
Moving away from the pastry, let me touch on minor notes. First, 1 1/4 c is 10 fluid ounces. Your average beer comes in a 12 fluid ounce bottle. While most of us would probably be inclined to just drink the last two ounces, I also think you can just dump a whole bottle in. I guess it depends on if you prioritize having a small amount of beer to drink or not dirtying a measuring cup more.
Consider boiling (or at least simmering) the mixture longer if you want a thicker "sauce". I felt our "stew" was really more of a soup, and I wish I'd boiled off some more of the water before putting it in. Especially if you're making this a day ahead of time, extra cooking time won't harm anything and might make the whole thing better.
h3. Consumption
I've already mentioned this dish was a bit too liquid for my tastes, and that the pastry didn't really "puff". Those are points against it.
However, the truth is that it was quite good even so. Jessie came over that evening, and we all very much enjoyed this dish. I'm sure it didn't hurt that it was pouring cold rain outside and we were all able to kind of curl up and watch the process and warm up with the meal.
This was in no way bland, but I think it would have been better with a brown ale instead of a stout (but stouts are what I usually have on hand), and maybe a little tweak to the seasonings. I'm not sure what, as I'd want the seasonings to highlight and support the taste of the beef, beer, mushrooms and puff pastry, but I think it could have used a little more "oomph".
However, thinking on it, that "oomph" might simply be achieved by having a thicker sauce for the beef. Maybe stirring in an extra tablespoon of whole wheat flour at some point as well as extra boiling would do it. Certainly that would add a touch of thickening and flavor without trying to compete with the other, stronger flavors there.
Finally, I wish I hadn't forgotten to make a salad to go with it. I bet that would have been AWESOME.