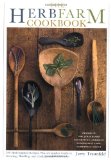 Poor Bill. He's going to find out the same way the rest of you do about this. This?
This falls in the category of, "Well it was bound to happen, and one night it did. Papa came home and it was just us kids…"
Wait, no. That's just the song that got stuck in my head when I saw this wonderful present from my parents this evening. Why? Because it was bound to happen.
Bill and I have been given another cookbook. This one. Possibly two others; I have to take a closer look at the other book I got and see if it's a cookbook or something else. I requested the other one thinking it was a book with some recipes in it, but the back cover is making me think I actually asked for a cookbook.… Continue reading →