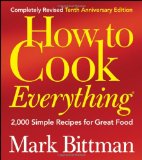 And now we come to the main event. A 22.5 lb monstrosity of an event. A gorgeous event.
Now, I have to admit to you something. Icing the turkey breast is nowhere near Mr. Bittman's method. His method also assumes you WILL make gravy, which we didn't (as you can see from the title). That leaves us with having actually made a variant on this recipe. I'm okay with that, though some of my readers may call foul.
I'd be sad if you guys did that.
So, let's not. Let's just get on to this gorgeous bird. I was pretty darn proud of it, I have to say.
… Continue reading →