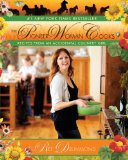 I can't lie to you guys. I really love The Pioneer Woman's blog, and all of her recipes and photos make me drool. Except the ones with cilantro.
Bill also loves her blog. So when we found her cookbook in a bookstore, not too long after it'd been published, we both really wanted to buy it. We knew we could get most of her recipes online (thus costing us nothing), but we felt we should support her work. Also a book is, in some ways, more portable than the internet. For example, I can take this to my mother's house and cook out of it more easily than hauling a laptop into the kitchen.
Not that I don't want a kitchen laptop, even so.
I picked this recipe as one of the first to make out of this book because I really enjoy chili and I love having some in the freezer for cold days and lunches and so forth. I also picked her skillet cornbread, because what goes better with chili? Also because I like anything with "simple" in the title.
h2. Ingredients
2 chopped garlic cloves
1 tsp ground oregano

1 tbsp ground cumin

1/4 tsp cayenne pepper (Optional)

2 tbsp chili powder

2 lbs ground beef

1 8 oz can tomato sauce

1 tsp salt

1/4 c masa de harina

1/2 c water for masa (Not in the cookbook…)

Other water as needed
Optional ingredients include anything you might want to throw in, such as the can of kidney beans we threw in.
h2. Instructions
Toss the garlic and beef into a large pot, and cook until brown, then spoon off the excess fat. Pour in the tomato sauce, spices, and salt. Stir it together well, then cover and simmer for about an hour, stirring occasionally. If the mixture becomes overly dry, add in 1/2 c water at a time, as needed.
At the end of the hour, mix the masa de harina and the 1/2 c water together with a fork, then add to the meat and mix well. Taste and adjust the seasonings, as well as more masa or water as needed for your preferred flavors and consistency. Add any optional ingredients at this point and heat for about 10 more minutes to heat through, then serve with your favorite chili toppings.
h2. Cooking and Consumption Notes
h3. Cooking
She's right that this is simple. It's basically browning some ground beef, then adding liquid to simmer for awhile. Tasty.
She's also right that you need to spoon off any fat. It'll depend on the kind of ground beef you use, but we had almost a half cup of fat & other liquid that came off with the fat. That's definitely something that can come out with no ill effect on the meal.
If you're curious about "masa de harina":http://en.wikipedia.org/wiki/Masa, wikipedia has a quick and easy read. We, unfortunately, couldn't find the real thing, so we used "normal" corn flour. This has a slightly different scent and taste, but it worked okay. If we can't find true masa de harina before we go to New Mexico again, I will probably acquire some there. I will also be amazed we had to go to such lengths.
h3. Consumption
If you're thinking this looks an awful lot like taco meat, you're right. Eating this, even with the beans mixed in, was basically a lot like eating straight taco meat. Tasty, but a little disconcerting.
We still don't have "chili powder" in the conventional sense. We still only have "ground dried New Mexico red chile" powder, so I'm forever tweaking to try to find what's a good substitute. I really ought to just make some chili powder along the lines of what cookbooks call for. How to Cook Everything has a recipe. I'll bet How to Cook Everything, Vegetarian does too, so if I'd just get off my duff and make it, I'd get two recipes out of the endeavor. However, I bet I'll just keep messing with what we have.
I'm going to make the leftovers (which are in the freezer) into tacos and burritos. It will be full of awesome.
19 October 2012 Edit: So THIS is what the reddish "mystery meat" in the freezer was. Huh. We pitched it. Once it was freezer-burned & we had no idea what we were looking at, we eventually gave up. Moral of the story: Label things. But will I learn? Probably not.