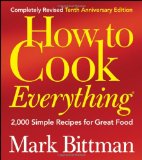 For the vast majority of my life, beans have been involved in many meals I've consumed. However, each of those meals used the exact same preparation and type of beans.
Yes, I grew up in New Mexico. So I ate a lot of refried pinto beans. A lot of them. No, even more than that. Seriously. Because I really didn't like most meat burritos, or tacos, or well, lots of things. I was basically left with eating bean burritos every time my family went for New Mexican food (except breakfast – that glorious meal). Or some variation on bean burritos. Like bean-stuffed sopapillas. Or the bean and cheese turnover at the now extinct Ron's (Ron & Marsha's to my parents).
Beyond that, though, I have almost no experience with beans. As an adult, I've tried hummus and liked it a lot, so maybe I'm just a bean puree kind of gal. I can't, however, think of many times I've had beans whole or in dishes. This is something I've wanted to change. Partially because beans are fairly inexpensive and partially because they are so full of fiber and partially because I keep hearing they make a good way to make vegetarian meals.
I'm really bad at vegetarian food (except for breakfast – that glorious meal). So I've made it a point, a couple of times recently, to try bean-based meals. "Obviously the last one wasn't vegetarian,":http://metacookbook.com/archives/101-51-Beer-Glazed-Black-Beans-with-Bacon-and-Tomatoes!.html but at least we got to the idea of "meat as a condiment", which is also a suggestion to reduce grocery bills, be healthier people and reduce environmental impact.
So, this was our main course a few days later, and it definitely is vegetarian. The meal itself was not, as you'll see in the next post.
h2. Ingredients
2 tbsp fresh thyme leaves (I grew these too! Exciting!)
3 c cooked or canned white beans, drained but still moist

Salt & freshly ground pepper

3 medium starchy or all-purpose potatoes, peeled

1 c chicken, beef, or vegetable stock (I used water.)

3 tbsp butter
h2. Instructions
Preheat the oven to 325°F. Stir 1 tbsp of the thyme into the beans, then taste and adjust the seasonings as needed. Spread the beans into the bottom of a large baking dish, and set aside.
Halve the potatoes lengthwise, then slice thinly into half-circles. Lay the potatoes in overlapping rows on top of the beans, then pour the stock over everything. Dot the top of the dish with pieces of butter, sprinkle with salt, pepper and the remaining thyme.
Cover with foil, and bake for 45 minutes. Remove the foil and bake until the top is browned & glazed, about another 45 minutes. Serve immediately or let rest for an hour and serve at room temperature.
h2. Cooking and Consumption Notes
h3. Cooking
You'll notice this says "with turnips" in the title of this post. That's because I had a butt-load of turnips from our CSA shares of the previous two weeks, and didn't really feel terribly inspired by the few turnip recipes in our books. Plus, I was curious about the statement the farmer had made in our CSA newsletter that turnips could be substituted for potatoes in just about any recipe. So why not here?
Some would say that making a substitution like that in an untried recipe is foolishness. My past self wouldn't go quite so far, but would say that I don't like to make substitutions before trying a recipe at least once. Honestly, my current self would say that too, but my current self is far more flexible in that "like", especially when the turnips are piling up.
As for other cooking comments, I did grow the thyme myself, but I didn't think it could survive my taking a full 2 tbsp worth of chlorophyll containing parts, so I only took ~1 tbsp. I mixed all of that into the beans, and sprinkled none on top. It worked.
Finally, it really does take the full second 45 minutes to brown the potatoes (and turnips) nicely. Be patient.
h3. Consumption
We had our friend Jessie over for this one, so you get my interpretations of the opinions of three people on this one! (I know, it's so very rare.)
Overall, we all enjoyed this dish. I'd say it was a touch on the bland side, but not a lot. I don't think the extra tablespoon of thyme would have fixed that, though. However, using any sort of stock probably would have. Especially if you cook your own beans and use stock instead of water to cook them as well. I did cook these beans first, but (as with the gratin recipe) didn't have stock easily available (okay, yes, it was frozen and I was lazy), so I cooked them in water too. I suggest thawing your frozen stock, rather than not.
Jessie enjoyed it enough to have a second portion, and to ask if she could take some of the leftovers home to her "vegetarian friendly" roommate. I thought that was indicative of a win.
I don't know what Bill and Jessie thought of the substitution of turnips for potatoes, but I actually really liked it. They really are similar enough for an easy substitution, but there's enough of a difference in flavor, texture and color to really make a noticeable difference between the two. While I expect I would have liked the dish with straight potatoes or straight turnips as the top portion, I think that combination of very similar but not quite the same parts really helped make this a likable dish. Furthermore, it makes me wonder if it would be even tastier with things that are more different, or if it's really that these are subtle differences that makes the (assumed) enhancement.
I sort of learned what a "gratin":http://www.google.com/search?q=what+is+a+%22gratin%22%3F&ie=utf-8&oe=utf-8&aq=t&rls=org.mozilla:en-US:official&client=firefox-a was while making this dish. If that google search is correct, this dish is kind of stretching the term, but still correctly falls under it's umbrella. I'd never had anything anyone had called a "gratin" before, so my only associations with the word were the Betty Crocker boxes I saw in the grocery store, and the sense of "a lot of fat and cheese".
It's nice to learn.