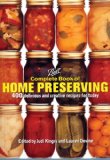 I don't recall exactly when I bought this book, but I know that it was earlier this year.
I have been interested in canning for a long time, particularly since my friend Corrine taught me how to make jam in her kitchen. This was back in 2007, and we made some delicious jams (Fuzzy Navel jam was my favorite and our "Harvest Jam" apparently rocked a lot of other folks' socks). We also made some killer apple butter from a recipe we got from my Grandma L.
Between that and my long-time (though waxing and waning, at times) interest in eating more locally, it was only natural that learning to preserve foods would pique my interest and canning all sorts of things would be a part of my life. I do have a freezer, and use it extensively, but it can only hold so much. Canned goods can be stored on my pantry shelves.
Sadly, I haven't used this one nearly as much this year as I might have liked. I made a couple of jams out of it, and a few more may come. However, I think next year is going to be the year of canning. I kind of think, at this point, I'm going to spend some time over the winter with this book and the other canning book I bought at the same time and make plans for next year's explosion of food.
And, frankly, that sounds like a year's worth of fun to me.
Number of recipes in the book: 400
Number we've cooked: 2
You can click the "ball book of home canning and preserving" tag on this entry to see everything we've preserved out of this book.