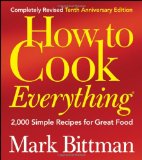 This wasn't at all the lasagne I had in mind when I decided I wanted to make some lasagne for dinner, with an eye toward freezing the leftovers for lunches. I had in mind the more common (at least in the States) noodle dish with ricotta and mozzarella and a thick tomato-based sauce. However, when I "asked Bittman" for a lasagne recipe (a.k.a. looked in the index), this was the first one that popped up. It was so intriguing and different that I just had to go for it, even if 1) it wasn't my original vision and 2) he had a recipe for what was my original thought right there.
As the previous two posts indicate, it was kind of a lot of work, and this is the end all of that. My friend Jen just commented last night that she was excited to hear how it all came together. There have been hints along the way, of course, but this is the big finale. And the final word?
Delicious.
h2. Ingredients
Salt (Assuming you boil your noodles.)
Lasagne noodles, fresh or dried (Dried is about a pound.)

1 recipe Béchamel, ~1.5 c

2 tbsp softened butter or extra virgin olive oil

~3 cups, Meat Sauce, Bolognese Style

1.5 c freshly ground Parmesan Cheese (We used 12 month aged Manchego)
h2. Instructions
If you're boiling noodles from a package, I vote you follow the package directions. If you've made your own, follow the directions in your recipe. I was not so awesome, and bought fresh from Whole Foods which was very clear about not boiling the noodles. The only thing to note is that Bittman says you want your noodles a little underdone. If you haven't made your béchamel before assembly, make it when you fish out the noodles and lay them flat somewhere.
Preheat the oven to 400F. Smear the bottom of your baking dish with the butter or oil and place a layer of noodles in the bottom, touching but not overlapping (maybe a little overlapping). Cover them with 1/4 each of the bechamel, meat sauce and cheese. Sprinkle some black pepper in there, if you like. Make three more layers like this, ending with a sprinkling of cheese. You can now either wrap it up good and freeze for a month or refrigerate for a day, or you can toss that dish in the oven and bake it for 20 – 30 minutes. You want delicious golden bubbly cheese on top. Yum!
Take it out and let it rest for 5 minutes before cutting it up and devouring it. You can again also possibly freeze it or refrigerate it, but let it cool completely first.
h2. Cooking and Consumption Notes
h3. Cooking
Well, most of the work was done at this point! I bought "R&P's lasagne noodles":http://www.rpspasta.com/ from Whole Foods, and (as I said) they are pretty explicit about not boiling the noodles first. Which, frankly, was what I was looking for. I've only boiled lasagne noodles once in my life, and it didn't go so well for me. A lot of torn noodles there.
My noodles overlapped slightly. It was fine. Don't tell Mr. Bittman.
The only bummer to doing things the way I did (pre-packaged noodles, but following this recipe) was that my noodles only allowed for 3 layers of noodles, not the four he calls for (or seems to call for – I admit it's not entirely clear). So I ended up making what seemed like a very "top-heavy" dish, since about half of the béchamel, meat sauce and cheese ended up on top of the top noodles. Such is life. No one complained.
This dish took the full 30 minutes to make in my oven. My oven runs a touch cool, according to my oven thermometer, but not so cool that it's easy to adjust for the temp. However, it came out amazingly golden brown. Bill walked in while it was baking and said the place smelled amazing.
h3. Consumption
I did wonder if I would have any trouble since I was making a less saucy pasta than the manufacturers expected by using the no-boil fresh noodles, but it was totally fine. In fact, the noodles ended up being perfectly done, easy to cut but with a hint of "biting back".
We ate this dish with a side of steamed fresh green beans from the farmers' market. The whole meal was shared with our friend Jessie, and we all loved it. Jessie even commented that Mr. Bittman never seems to steer us wrong. I know it was good, because thirds were taken by one or more people. Also, all the green beans were eaten, which is good for us.
At one point Jessie exclaimed, "Is this a carrot?" in a delighted voice. Yes, yes it was. A super carrot.
I've never had a Bittman recipe go bad on me. At this point, if you're following this blog and haven't considered buying this cookbook, I'm going to say you really ought to. Consider buying it, then do so. Just a thought.