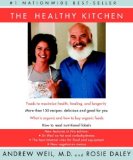 I am considering giving this book the ol' heave-ho. That seems a little unfair, because we've only made two recipes out of it for this challenge, and I think that brings my lifetime total to four. However, this recipe was also a bit of a loser, both in taste and in instructions, and I don't want to waste our time on bad recipes.
We have, after all, more than 2,500 recipes to cook before we can ever buy a cookbook again. Even if we ditch this cookbook, we're just under 2,500 recipes. Every recipe counts! At least from a book.
And given that MY amazon "kitchen things" wish list is ever-growing ("see here":http://www.amazon.com/gp/redirect.html?ie=UTF8&location=http%3A%2F%2Fwww.amazon.com%2Fgp%2Fregistry%2Fwishlist%2F323M65QOHI8VJ%3Fie%3DUTF8%26ref_%3Dcm_wl_rlist_go&tag=metaco-20&linkCode=ur2&camp=1789&creative=390957), mostly with cookbooks I can't buy, I will ditch a bad cookbook in no time flat. And that's not even going into Bill's wish list! (He doesn't keep his kitchen stuff separate from everything else. This is probably for the best, as it might be heartbreaking to know just how many cookbooks we wish we had.)
h2. Ingredients
2 c millet, quinoa, amaranth or a combination
0.125 tsp curry powder, optional

4 c chicken or veggie stock

0.25 c sun-dried tomatoes, not in oil

0.5 c boiling water

0.5 c shredded zucchini

0.5 c shredded yellow summer squash (I just used 2x the zucchini, because I hate summer squash.)

0.25 c minced red bell pepper

0.25 c minced green onions/scallions

Salt to taste
h2. Instructions
Toast the grain in a large saucepan over low heat, stirring occasionally, until it has turned a light brown. If using, stir in the curry powder until well blended. Remove from heat and allow to cool for 5 minutes, then add the stock, bring to a boil, then reduce heat to medium-low, cover and simmer for about 20 minutes. Cook until the grain has absorbed all the liquid.
While the grain is cooking, soak the sun-dried tomatoes in the boiling water for 15 minutes. Drain, reserving the liquid, then chop. Once chopped, mix the tomatoes, zucchini, squash, bell pepper, scallions and reserved liquid in a small skillet. Cook over low heat until most of the liquid has been absorbed.
Mix the grain with the veggies, and toss well to combine. Add salt and pepper to taste, then serve.
h2. Cooking and Consumption Notes
h3. Cooking
Sounds fairly easy, doesn't it? It actually wasn't too challenging, but there were a few issues. Of course, to be honest, it's been long enough between when I cooked this and my posting it (now) that some of the challenges will have faded away.
For starters, toasting that much quinoa, our grain of choice, took much longer than anticipated. I'm not sure why, and if it was our problem or the cookbook's problem, but it was irksome. We don't usually have any trouble toasting quinoa, and that is how we usually make it, so I'm just going to guess it was the quantity taking forever. As you can imagine, there was almost no challenge in stirring in the curry powder, but it's hard to spread that little curry evenly amongst that much grain.
We used homemade chicken stock. I have a lot of it in the freezer, so it will almost always be our default.
Rob was with us that evening1 and did the second portion of the dish. My sense from him is that the tomatoes did not soak long enough, but other than that it was fairly easy to assemble.
h3. Consumption
This recipe makes a TON of food. Maybe even a TONNE. Seriously, I served it to three adults for a side-dish one night, then three adults and a five year-old another night, and still probably had enough leftover to feed another three adults. Be forewarned.
Far too little curry powder. Far. I can honestly say you can't taste any curry flavor in this dish. I will, for the sake of honesty & authenticity, admit that our curry powder was a bit old. However, it was also unopened and in an air-tight container, and smelled delicious. Thus, while it was probably not as potent as it should be for any curry uses, I am also 100% convinced that we need to dramatically increase the amount of curry in this dish.
Why such an increase of curry? Because, quite frankly, this dish was damn near flavorless. Even with my beloved zucchini2 in it. The tomatoes also didn't have much flavor, but I suspect that was just a result of swimming in a sea of quinoa flavor.
I will say, though, that a couple of days of rest improved the flavor some. Corrine & her little one came by a couple of days later, and we made some kale, tri-tip steak for dinner, and put this on the side as well. She really enjoyed it, and I enjoyed it more. However, not enough more than the first go-round to want to make it again any time soon.
Honestly, I'd give this recipe a pass if I were you. I, again, am half considering trying to tweak it to make it "suck" less3, but I doubt I'll put in the effort when there are so many other recipes to be made.
fn1. Yes, this has been and will be a common theme around this house. No, Rob has not moved in with us. He just happens to be around for meals often, due to when workouts are scheduled.
fn2. Oh, how I long for the day that I have a yard, a bumper crop of zucchini and am zucchinied out. I keep hearing it happens, but I have no personal experience with it.
fn3. Rob's description for the food. He said, as he left that night, that he understood "it wasn't [my] fault that the side dish sucked."