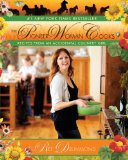 If you know us personally, you already know about "The Pioneer Woman":http://thepioneerwoman.com/ because you've either gotten a link from us to something wonderful or funny she's posted about, or because we talk about our imaginary internet friends all the time (note: unlike some of our imaginary internet friends, Pioneer Woman does not actually know us in any way, shape or form – she just has a lot to say that's worth sharing beyond her blog).
I don't know how long Bill has been reading PW, but I've been reading it for a little over a year now. If I recall correctly (and I may not), at the time I started reading, she just had the "Confessions" and "Cooking" sections up. Now she's got five sections, and I read them all, daily. Yes, even the "Homeschooling" section, despite having no kids. And, honestly? I'm really glad I do, because I remember "these books":http://thepioneerwoman.com/homeschooling/2009/01/valuetales-a-blast-from-my-past/ from when I was a kid, but didn't remember enough about them to get my hands on them again. Now Bill and I have a couple of nephews, and a couple honorary nephews (no nieces yet, oddly), and some general wee ones around in our lives (that's where the girls are – but none of them call us "Aunt" or "Uncle"), and I think these books would be great.
Maybe it's just because I was first exposed to the story of Jane Addams in those books, and it's always stuck with me. Maybe not. Of course, now I live and work a stone's throw from Hull House, and buy produce at times from the Hull House farmers' market, so the story of Jane Addams continues to stick in my head.
No, that doesn't have anything to do with cooking. But it gives you a sense of how much we appreciate the Pioneer Woman's blog. And her recipes? Holy cow, we always want to make them all. Really, just go check out "The Pioneer Woman Cooks":http://thepioneerwoman.com/cooking/ and poke around and see if you don't find four recipes within ten minutes that you want to cook. Pioneer Woman's cooking blog is what this blog wants to be when it grows up. At least the photos part. (How does she take so many great photos? I struggle with that daily.)
Once we start speaking to our oven again, this cookbook is going to come out a lot, I suspect. There's a lot of delicious foods in there that I want to make in an oven.
Number of recipes in the book: 74 (Estimated)
Number we've cooked: 0
You can click the "pioneer woman cooks" tag on this entry to see everything we've cooked out of this book.