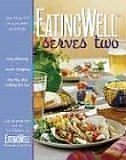 This book, unlike the previously posted book, was a blatant cookbook grab on my part just before the challenge started (the challenge stated we'd buy no more cookbooks after 1 June 2010, and this one was purchased 30 May 2010). Mostly because I'd heard good things about it and I am always looking for a cookbook that is scaled down.
I haven't, I have to admit, purchased a large number of "cooking for two" cookbooks, though I've thought about it. As is quite obvious, it's not because I don't like cookbooks or because I hesitate to buy them. It's because most of them look dull or simplistic. In the case of this one, I bought it because it came extremely highly recommended by a person on one of my internet haunts. The fact that it is also a book of healthful recipes sealed the deal.
Number of recipes: 160 (estimated)
Number we've made: 0
You can click the tag "Eating Well Serves Two" below to find all the recipes we've made from this book.