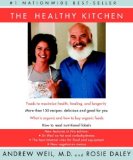 As occasionally happens, I had a very long entry typed up regarding this cookbook, and then accidentally managed to erase the whole damn thing. The worst part? I use Firefox, had the Lazarus add-on installed for just such an occasion, and was still unable to recover it. Good job, Lazarus.
Anyway, I'll try to recover it from memory to the best of my ability, but these things always end up far shorter than the original. Some of you might even think this is no bad thing, but I'm bummed.
I first heard of "Dr. Weil":http://en.wikipedia.org/wiki/Andrew_Weil back in the days when I was a "Prevention Magazine":http://www.amazon.com/gp/product/B00005NIOO?ie=UTF8&tag=metaco-20&linkCode=as2&camp=1789&creative=390957&creativeASIN=B00005NIOO subscriber. He often writes for them, or did back in the early 2000s (I still don't know what to call that decade/this decade if you're one of Bill's or my more pedantic friends). He's a character, all about the use of both western medicine and alternative medicines. I really appreciated this at the time, and would have continued to appreciate it to this day, but it seems a bit like he's gone into putting his name on a variety of things ("make-up for one":http://www.origins.com/weil/index.tmpl) and I'm not sure how I feel about that1. Anyway, I have sort of drifted from being intrigued by his ideas to not much paying attention to him anymore.
Rosie Daley, I didn't know much about beyond "was once Oprah's personal chef". Someone in my life had her other book "In the Kitchen with Rosie":http://www.amazon.com/gp/product/0679434046?ie=UTF8&tag=metaco-20&linkCode=as2&camp=1789&creative=390957&creativeASIN=0679434046 and I vaguely recall thinking the recipes looked good. Now, of course, I live in Chicago and I wonder if she's related to any of the powerful Daleys in this city. Not that I know, since there's no Wikipedia page for her, and I'm not going to do too much digging to satisfy what is basically an idle curiosity.
So, several years ago when this book hit the Barnes & Noble bargain bin, I bought it. I have only made a few recipes out of it prior to this challenge, and the only one I recall is the applesauce. Which I made several times because it was great. It should be interesting to see what we get out of this. At the time of writing this book entry, "we've cooked one recipe from this book for the challenge.":http://metacookbook.com/archives/27-15-Wilted-Kale-with-Mushrooms.html It ended up being, by far, the longest entry I've written to date, and it wasn't a drooling, rave review. Still, I have hope that the book will turn out to be cool. Only one way to find out!
Number of recipes: 150 (from the front cover)
Number we've made: 2
You can click the tag "The Healthy Kitchen" below to find all the recipes we've made from this book.
15 Oct 2012 Edit: We made, I think, a total of two recipes from this book. They were, at best, mediocre. Combine that with the poor editing mentioned in the post we linked to above, and we never really considered looking at this book again. Eventually, I decided to get rid of it. I hope whoever purchased it from the thrift store I donated it to several months ago has better luck than we did.
---
fn1. I see that "all after-tax profits" he makes from these things go to his foundation. I'm not entirely sure how I feel about that either, but it's worth noting.