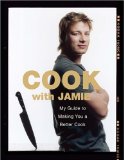 This is, as far as I can tell, an awesome cookbook. It's part recipes, part concepts ("here's how to match things together so they taste good! Here's how to use a knife properly!") and part stories about the students he works with. All of it is written conversationally, and if you've heard Jamie Oliver speak on TV (or in his TED talk, which I recommend), you can imagine him reading it. I love that there are full page pictures of every recipe so that you can know what you're expecting when you make a dish.
As you can tell from the title, it's a book about learning to cook. As such some of the recipes are loose. "A large knob of butter", "a few bay leaves", "a good glug of olive oil" and "a splash of red wine vinegar" are some of the ingredients I see flipping through a few pages. Some people won't like that style, but I do. I'm really looking forward to cooking from this book.
Number of recipes: 158 (estimated)
Number we've made: 2
You can click on the "cook with jamie" tag below to see any recipes we've made from this book.